Want to make sure you're providing your body with the right nutrients it needs to recover and grow stronger? Check out these easy and healthy post workout snacks to help you get started!
Working out regularly is essential for maintaining your physical health – as is eating properly to help your body recover following a hard workout.
Proper nutrition helps to refuel working muscles, allowing you to build more strength while also giving your body the food it needs to thrive. 
In this article, we will cover what nutrients you need after working out. Plus, we will offer 5 healthy and tasty ideas for post-workout snacks!
Disclosure: This post may contain affiliate links which I'm happy to promote. All thoughts and opinions are my own. Much love & thank you for your support. 
 To learn more about my policy, click here.
Essential Nutrients That Are Required After a Workout 
Maintaining a healthy lifestyle requires more than just a consistent workout routine.
After each workout you complete, it is crucial to give your body the nutrients it needs to rest and recover. Proper nutrients not only help with recuperation but also prepare your body for the next workout, helping to build stronger muscles and a more sustainable physique. 
Here are the essential nutrients you need post-workout: 
Carbohydrates to Refuel
When you work out, your body relies on glycogen to fuel itself during each exercise. 
According to a 2018 study on the fundamentals of glycogen metabolism for athletes, foods that are rich in carbohydrates are necessary for restoring your glycogen levels. These foods need to be easily digested so that they are quickly absorbed and transported to your muscles. 
Good types of carbs to focus on incorporating into your post-workout diet include grains, most fruits, starchy vegetables, and dairy. 
Protein to Repair
Amino acids are the building blocks of muscle, helping to increase muscle mass and repair muscle tissue following a hard workout. When it comes to eating your proper daily dose of amino acids, there's no better source than protein. 
Harvard Health reports that the Recommended Dietary Allowance (RDA) of protein for adults is approximately 0.8 grams per kilogram of body weight. 
For most people, this averages out to between 50 to 100 grams of protein per day. 
Fluids to Rehydrate
Working out causes your body to sweat – and that sweat results in a loss of fluids. 
Proper hydration is key not only for post-workout recovery but also for keeping your immune system and organs functioning properly, as well as delivering essential nutrients to your cells. 
While plain old water is the best fluid for rehydrating your body, other fluids such as fitness waters, protein shakes, and smoothies can also be a great source of rehydration. 
What should you not eat after a workout?
Just like it's important to eat the right foods for your post workout snack, you want to make sure you don't eat the wrong foods too. According to Concordia University, here are some foods to avoid:
Stay away from unknown ingredients
Don't eat spicy food
Avoid unnecessary sugars
Skip the alcohol.
Pre-packaged things like sports drinks, energy bars, and pre-made protein shakes are the worst options. Although they're marketed to athletes, they tend to have so many hidden ingredients and unnecessary sugars, they do more harm than good.
Stick to real, whole foods like fruits, vegetables, nuts, seeds, and lean meats and you'll be much better off.
When should you eat after a workout?
There is no hard or fast rule for when you should eat your post workout snack. In the past, the recommendation has been to eat within 30-45 minutes of your workout.
Recent research however has suggested that you can still get some great benefits by eating within a longer time period. The Mayo Clinic recommends:
"To help your muscles recover and to replace their glycogen stores, eat a meal that contains both carbohydrates and protein within two hours of your exercise session if possible. Consider a snack if your meal is more than two hours away."
This allows your body time to absorb the nutrients you are giving it before moving on to other tasks.
Related Posts:
5 Healthy Post-Workout Snacks
Now that we know the nutrients needed for your body to properly recover post-workout, let's take a look at some awesome snack ideas that are as delicious as they are nutritious.
Here are 5 healthy post-workout snacks:
1. Eggs + Whole-Grain Toast
Eggs are an excellent source of protein, containing roughly 6 grams of protein each. 
Paired with whole-grain toast, the egg and toast combination gives your body both the protein and carbs it needs post-workout. Many whole-grain breads also include protein in their recipes as well – such as Dave's Killer Bread 21 Whole Grains (5 grams/slice) and Arnold Organic 22 Grains & Seed Bread (4 grams/slice).
Add leafy greens – like spinach – to your toast and eggs for an extra source of dietary fiber and to help chip away at your daily recommended veggie intake. 
2. Greek Yogurt + Granola
When compared to regular yogurts, Greek yogurt can contain two to three times the amount of protein. Not only this but Greek yogurt is also a great source of probiotics that help to maintain your gut health. 
Granola, on the other hand, can be a fantastic source of protein, dietary fiber, healthy fats, and carbohydrates. Look for granolas that are low in added sugars and packed with whole grains. 
You can also add organic dried fruits to your bowl of Greek yogurt and granola. Dried fruits are great for digestion and help to treat the symptoms of a lack of fiber (constipation, bloating, fatigue, inflammation, unexplained weight gain, etc.). 
3. Power Smoothie
Get your post-workout fluids, protein, and carbs all in one place with a power smoothie. 
To craft a power smoothie, you need ingredients that are rich in nutrients and powerful antioxidants – like blueberries, bananas, strawberries, or mangoes. You can also mix in items such as spinach for more fiber or oats for more carbs. 
For the fluid portion, you will need a healthy liquid like water, orange juice, low-fat milk, or non-dairy milk (oat, coconut, almond, etc.). Additionally, you can add Greek yogurt to give your smoothie a creamier texture that also provides extra protein. 
4. Peanut Butter + Apple 
Apples give you a healthy dose of dietary fiber and fluids, while peanut butter is a terrific source of protein and carbohydrates. 
Along with dietary fiber, apples also provide essential nutrients like Vitamin C, Potassium, and Vitamin K. On the other hand, peanut butter contains the essential nutrient omega-6, which helps to lower bad cholesterol in the body. 
5. Banana + Almond Butter
Not a fan of apples and peanut butter? Swap them out for bananas and almond butter!
Bananas are packed with nutrients such as Vitamin C, Riboflavin, Copper, Potassium, and Magnesium. Plus, they offer approximately 30 grams of carbs, 1 gram of protein, and 3 grams of fiber.
Meanwhile, almond butter is high in monosaturated fats and is generally considered to have a similar nutritional value to peanut butter. While peanut butter offers more protein, almond butter has more vitamins, minerals, and fiber. 
Bump up the carbs in this snack by spreading out your bananas and almond butter on a piece of whole-grain toast. 
Conclusion to Easy and Healthy Post Workout Snacks That Aid Recovery
In order to get the most out of your exercise, refueling your body after a hard workout is super important.
With the healthy post workout snacks above, you can easily manage to eat all the necessary nutrients you need – and enjoy your snack time while you do!
What are your favorite healthy post workouts snacks? Tell me in the comments or email me at Candice@littlestepsbighappy.com. Follow me on Pinterest for more healthy eating tips.
Looking for more healthy recipes?
Healthy Dinner Recipes
Healthy Snack Ideas
Healthy Lunch Ideas
Healthy Breakfast Recipes
Pin this for later
You might also like: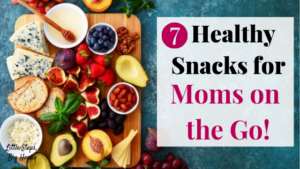 Isabella is an experienced nutritionist and a passionate freelance writer. She uses her knowledge and experience to write about trending nutrition topics and develop a healthy and joyous relationship with food and the body. Her tips help to make healthier lifestyle choices.