Smoothies are a great way to get your kids (or yourself) the fruits and veggies they need. But what if you can't use yogurt or milk? This blog post will show you how to make a smoothie without yogurt or milk and it includes 20 tasty recipes!
Whether you're vegan, avoiding dairy, or just plain out of milk or yogurt, there are still lots of healthy smoothie options for you. Let's cover what you can use as substitutions for milk or yogurt in your smoothies, plus some smoothie recipes you can make today.
Disclosure: This post may contain affiliate links which I'm happy to promote. All thoughts and opinions are my own. Much love & thank you for your support. 
 To learn more about my policy, click here.
How to Make a Smoothie Without Yogurt or Milk
I have a house full of picky eaters, so sometimes smoothies are the only way that I can get protein into my younger two. Not to mention vegetables. 🙄
Smoothies are one of our go-to breakfasts and snacks because everyone loves them and I can sneak in all the protein and veggies I want. But sometimes we run out of milk or yogurt.
On those days, I fall back on some of my favorite substitutions to make sure we still have our favorite healthy treat. I'm going to share some good substitutes for milk and yogurt that still preserve the taste and texture of your smoothie.
What Can Replace Yogurt in a Smoothie?
When you add yogurt into a smoothie it adds a nice taste and texture to the smoothie. It's great for disguising the powdery texture of things like protein powder or ground flaxseed.
Yogurt also helps to thin out a smoothie or stretch it a little farther. So when you're substituting yogurt, you want to make sure that you use foods that will help do the same thing.
With almost all of these substitutions, you'll do a 1-for-1 swap. So if your recipe calls for 1/4 cup of yogurt, you would use a 1/4 cup of the substitution.
Here are some good options for replacing yogurt in your smoothie.
Banana
Banana is a great substitution for yogurt. It has a sweet taste and is great for creating a smooth texture in your smoothie.
According to Adda Bjarnadottir, MS, RDN, bananas are also a good source of fiber, antioxidants, potassium, and Vitamin B6. This makes it a pretty healthy swap for yogurt.
Coconut Cream
Another alternative to yogurt in your smoothies is coconut cream. Coconut cream is a thicker form of coconut milk.
It has a rich flavor and thick texture that is similar to yogurt or heavy cream. According to WebMD, it's also a good source of protein, antioxidants, phosphorus, magnesium, and potassium.
Soy Milk Yogurt
One of the easiest substitutes to traditional yogurt in your smoothies is to use a dairy alternative yogurt. I have found soy milk yogurt to be a great choice.
They have lots of flavors and it has the same consistency as regular yogurt, so it makes a pretty seamless switch. Neither my kids nor I could even taste the difference with this one.
Almond Milk Yogurt
Another dairy alternative yogurt to try is almond milk yogurt. When it comes to eating this yogurt by itself, I don't enjoy the taste as much. When I put it in a smoothie, however, I can't even tell the difference.
I have found these yogurts to be just a little bit thinner than regular yogurt or soy yogurt, so that's something to keep in mind depending on how much you put in your smoothie.
Avocado
Avocado is also a great substitution for yogurt in your smoothies. It has a great texture when blended and the flavor isn't very strong, so it won't overpower your smoothie.
According to Kris Gunnars, BSc, avocado is loaded with healthy fats, fiber, and various important nutrients which make them a super healthy alternative to yogurt.
Cooked Sweet Potato
A surprising alternative to yogurt is cooked sweet potato. If you're in a hurry, you can pop one into the microwave for a few minutes and then scoop out the insides to add to your smoothie.
I haven't tried this swap personally, but a lot of people recommend it.
Peanut Butter
Peanut butter is another easy swap for yogurt in your smoothie. I was suspicious of this swap the first time I tried it, but it actually turned into one of my favorite smoothie add-ins.
It adds a really nice, creamy texture to the smoothie and the peanut taste is so faint, it works great in fruit smoothies too.
Almond Butter
Just like peanut butter, almond butter makes a great substitution for yogurt in smoothies. You get all the creamy texture, plus an extra source of protein.
Cashew Butter
Like peanut butter and almond butter, cashew butter is a good substitution for yogurt in smoothies. According to Leslie Beck, B.S. Dietetics, cashew butter is a good source of magnesium, B vitamins, iron, and potassium.
What Can I Replace Milk With in a Smoothie?
Next on how to make a smoothie without yogurt or milk is using a good milk alternative. Milk is great for smoothies because it's a healthy liquid that helps your smoothie be thin enough to drink through a straw.
If you don't use enough liquid in your smoothie it will be super thick and won't blend well. You'll end up with big chunks and you won't be able to drink it.
Here are some good milk substitutions for your smoothie.
Water
The easiest substitution is water. It's free and odds are pretty good you have some on hand.
I would use this option in a pinch, but it will probably water down the taste a bit unless you're using smoothie ingredients with strong flavors. If you go this route, I would use as little water as possible to get your smoothie to the right consistency.
Juice
Another common milk substitute for smoothies is juice. This is a pretty popular one and usually makes your smoothies taste really good.
The only downside is that juice tends to have a lot of added sugar which makes it a little less healthy than other options.
Almond Milk
Almond milk is a great substitution for regular milk in your smoothies. This is the one we like to use the most because it tastes good and has pretty much the same consistency as milk.
Soy milk
Soy milk is another dairy-free substitution for milk. Just like with almond milk, it tastes good and you won't notice the difference in your smoothie.
Oat milk
Oat milk is a great dairy-free alternative to milk in your smoothies. We bought some a while back when I was looking for high-protein milk substitutions for my son.
It's nice and thick, so it goes well in smoothies and you don't really notice the taste difference.
Coconut milk
Coconut milk also makes a great alternative to regular milk in a smoothie. It's got lots of great health benefits, similar to coconut cream mentioned earlier.
If you're worried about the flavor, most people say coconut milk doesn't have a strong flavor, so it should go well in most smoothie recipes.
Related Post:
What is the Best Liquid to Use in a Smoothie?
In my opinion, the best liquid to use for smoothies is milk or a milk substitute. They're healthier and help maintain the consistency of your smoothie without watering down the flavor.
I much prefer them over water or juice. Water tends to water down your smoothie too much.
Juice adds unnecessary sugar to a recipe that should be a healthy one. Plus, most smoothie recipes are sweet enough to taste good without the added sugar.
20 Smoothie Recipes Without Milk or Yogurt
If you're looking for more on how to make a smoothie without yogurt or milk, check out some of these yummy dairy-free smoothie recipes.
Conclusion on How to Make a Smoothie Without Yogurt or Milk
I hope this information on how to make a smoothie without yogurt or milk was helpful. With a few substitutions, you can still have a tasty smoothie even if you don't add yogurt or milk.
How do you make smoothies without yogurt or milk? Let me know in the comments below or email me at Candice@littlestepsbighappy.com. Follow me on Pinterest for more tasty and healthy recipes.
Pin this for later!!
You might also like…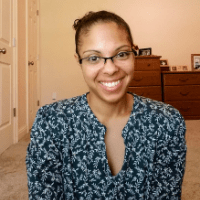 I'm a busy mom of 3 turned Health and Fitness Coach and Self Defense Instructor. I help inspire other moms to reach their health, fitness, and weight loss goals. You can usually find me chasing my kiddos around, training Brazilian Jiu-Jitsu, or sneaking away to read romance novels. About Me