Do you ever find yourself so busy that all of your meals are on the go? And you just need a quick, healthy breakfast option to get your day started off right. If so, then you should give this quick and easy Mango Strawberry Banana smoothie a try!
With simple ingredients and a few minutes, this smoothie will be ready in no time at all. You can whip it up as an afternoon snack or have it as a meal replacement when life gets too hectic.
Jump to Recipe
Disclosure: This post may contain affiliate links which I'm happy to promote. All thoughts and opinions are my own. Much love & thank you for your support.  To learn more about my policy, click here.
How to Make a Mango Strawberry Banana Smoothie
To make this mango strawberry banana smoothie, all you have to do is take your ingredients, pop them in the blender, and press the button. Let the blender work its magic until you reach your desired consistency, and you're good to go!
Mango Strawberry Banana Smoothie Ingredients
For this recipe,  you'll need:
1 1/2-2 cups of frozen strawberries
1 whole banana
3/4 cup of milk
1 cup of fresh mango
1 tsp of chia seeds*
and 1 scoop of protein powder*
*The chia seeds and protein powder are optional, but they're a great addition to your smoothie. The chia seeds are a good source of protein and healthy fats.
Protein powder helps make the smoothie a great meal replacement and helps thicken the consistency.
Recommended Kitchen Tools
For this recipe, you'll need a good blender. My favorite blender is the Ninja BL660. I had one for several years and loved it. I used it almost every day for a while and it held up well.
It can, however, be a little expensive, so if you're looking for something a little cheaper, I have also used one from Black + Decker and have been very happy with it. It's a lot more affordable and gets the job done.
Mango Strawberry Banana Smoothie Benefits
This mango strawberry banana smoothie not only tastes great but has lots of health benefits.
According to WebMD, mangos are "…a great source of magnesium and potassium, both of which are connected to lower blood pressure and a regular pulse. Furthermore, mangos are the source of a compound known as mangiferin, which early studies suggest may be able to reduce inflammation of the heart."
Adda Bjarnadottir, MS, RDN (Ice) from Healthline, states that bananas "…contain several essential nutrients and provide benefits for digestion, heart health, and weight loss."
And WebMD states that strawberries "…protect your heart, increase HDL (good) cholesterol, lower your blood pressure, and guard against cancer."
I mean, I would totally drink this smoothie just because it tastes amazing, but knowing it does all that usually has me feeling like I'm totally on top of this healthy eating thing.
Mango Strawberry Banana Smoothie Substitutions
I know life happens and sometimes you don't have everything you need to make a mango strawberry banana smoothie on hand. Here are some easy substitutions you can make.
Milk – You can substitute the milk with any dairy-free milk, juice, or water.
Frozen Strawberries – You can substitute the frozen strawberries with fresh ones or any other type of frozen berry. If you substitute with fresh though, cut the amount of strawberries in half and make sure to add in some extra ice to help thicken the smoothie.
Banana – You can substitute the banana with yogurt, coconut cream, or nut butter. It will change the taste of the smoothie slightly, but it'll still be pretty good.
Mango – You can substitute fresh mango with frozen mango, yogurt, coconut cream, or nut butter. Like with the banana though, it will change the taste some.
Mango Strawberry Banana Smoothie Variations
You don't have to settle for just drinking this smoothie the traditional way. You can mix it up a little with these variations.
Mango Banana Strawberry Smoothie Bowl
To make this smoothie into a smoothie bowl, you simply follow the recipe, add some toppings, and you're good to go.
I do find that smoothie bowls go a little bit better if you make your smoothie a little thicker. It's kind of hard to scoop it up if it's too thin to stay on the spoon.
Smoothie Toppings
If you want to add some toppings to your smoothie or smoothie bowl, here are some good ideas:
Fresh fruit
Frozen fruit
Nuts
Seeds
Chocolate chips
Yogurt
Add Some Greens!
One of the best things about smoothies is that they are so good for sneaking in some veggies. It's one of the few ways I can get my youngest son to eat anything green without some serious bribery.
Here are some good, healthy vegetables you can add to your smoothie:
Spinach
Kale
Avocado
Sweet Potatoes
Beets
Carrots
Celery
Cucumber
Spinach and kale are my personal favorites because I usually can't convince my kids to touch them with a 10-foot pole unless they're in a smoothie. The other ones are good options too.

Pro Tips
After making more than my fair share of smoothies, here are a few tips I have learned:
Pour your liquid in first. This helps everything blend better, especially the protein powder.
Put half the frozen fruit or ice in first. Blend everything together, then slowly add the rest in a little at time until you hit the right consistency. It's really easy to put too much frozen fruit or ice in and then you're smoothie gets too thick to drink.
If your blender does get stuck: turn it off, stir it up with a spoon, and then turn it on again.
How to Meal Prep This Smoothie
If you want to meal prep this mango strawberry banana smoothie, it's pretty simple.
Pour all of your smoothie ingredients in a freezer-safe container except the milk.
Freeze for up to 3 months.
When you're ready to make it, pour it in the blender, add your liquid, and press the button!
Pat yourself on the back for being smart enough to meal prep smoothies and make an easy breakfast even faster.

😉
Mango Strawberry Banana Smoothie FAQ's
This mango strawberry banana smoothie is pretty straightforward, but here are some questions that often come up when making it.
Can I use frozen fruit?
Yes! Frozen fruit is a great way to thicken a smoothie without diluting the taste. If you replace the mango and banana with frozen fruit, I suggest you cut the amount of strawberries in half. Otherwise, your smoothie will be super thick.
How do I peel a mango?
Peeling a mango can sometimes be a pain. I've done it plenty of times, but I admit, when I'm feeling lazy I just buy the precut packages from the store.
If, however, you have a whole mango and you need to figure it out, here is the video I watched the first time I learned how to peel a mango.
What can I put in a smoothie to thicken it?
There are a couple of things you can add to your smoothie to make it thicker. Here are some that I have used that turned out well:
Ice
Frozen fruit
Flaxseed
Oats
How do you make a creamy smoothie?
Here are some of the things I like to add to my smoothies to help make them a little creamier:
Yogurt
Banana
Coconut cream
Nut butter
Adding something to make your smoothie creamier works really well if you're adding any type of powder like protein powder or flaxseed. It helps everything blend better and adds a really nice consistency to it.
How to tell when a Mango is ripe?
I will totally admit that learning how to tell when a fruit is ripe is still something of a mystery to me. I often just grab the fruit from the bin and it's a little surprise when I get home on whether it will be ripe or not.
According to London Brazil from Evolving Table, the best way to tell if a mango is ripe is to "…apply firm but gentle pressure to the fruit. If it gives slightly when squeezed, it is ripe and ready to eat."
I wish this advice worked for all the produce out there, but it's a start! 😂
What fruits go well with mango in a smoothie?
Well clearly, banana and strawberry go well with mango in a smoothie, but there are all kinds of options to add. Here are some other fruits you could try:
Pineapple
Blueberries
Raspberries
Orange
Peach
Are Mango Strawberry
Banana
smoothies good for you?
Absolutely! Mango strawberry banana smoothies have lots of healthy vitamins and nutrients that are sometimes difficult to get into your diet. When you use them as a meal replacement, they can also help you lose weight.
How many carbs are in a Mango Strawberry Banana smoothie?
In one serving, a mango strawberry banana smoothie has 54.5g of carbs.
More Healthy Breakfast Ideas
Quick & Easy Mango Strawberry Banana Smoothie
This delicious tropical smoothie is sweet and fruity. It's the perfect way to start your day or cool down on a hot afternoon. You can have it ready in less than 5 minutes!
Ingredients  
¾

Cup

Milk*

1½-2

Cups

Frozen Strawberries

1

Banana

1

Cup

Fresh Mango

1

tsp

Chia Seeds

Optional

1

Scoop

Protein Powder

Optional
Instructions 
Place all ingredients into the blender.

Pour into a cup and enjoy!
Notes
*You can substitute the milk with almond milk, water, oat milk, soy milk, or juice.
For a thicker smoothie, add in more frozen strawberries.
For a thinner smoothie use fewer frozen strawberries or add in more milk.
If you try this mango strawberry banana smoothie, I would love to know what you think! Tell me in the comments below or email me at Candice@littlestepsbighappy.com. Follow me on Pinterest for more healthy recipes.
Pin this for later!!
You might also like…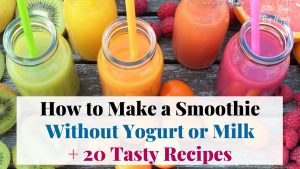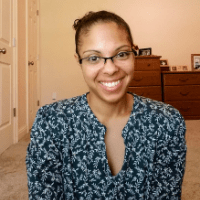 I'm a busy mom of 3 turned Health and Fitness Coach and Self Defense Instructor. I help inspire other moms to reach their health, fitness, and weight loss goals. You can usually find me chasing my kiddos around, training Brazilian Jiu-Jitsu, or sneaking away to read romance novels. About Me