So my family is invited to a 4th of July BBQ. Yay! Free food! lol. But…. that means chips and salsa, and probably cake, and all of the other foods that are not on my diet right now….. *sigh*.
So after a short pity party where I agonized over how I was going to eat at the party and what I was going to eat at the party, I hopped on Pinterest and started hunting up recipe ideas for the party. I found a whole list of healthy 4th of July dishes that you can check out.
While I was looking, I became inspired to make my own twist on some of the ideas I saw. So I made this quick and easy frozen yogurt fruit flag. It's not glamorous, but it's super easy, tastes good, and it's healthy.
Quick and Easy Frozen Yogurt Fruit Flag
Ingredients
I kept it really simple because I am not a fancy cook y'all. I used vanilla yogurt, strawberries, raspberries, and blueberries. To make it the only equipment I needed was wax paper and a cookie sheet.
You definitely want to make sure you use the wax paper. It's super easy to peel off of the yogurt once it's frozen.
How to make it
So this recipe is super easy to make. Simply place the wax paper on the cookie sheet, spread the vanilla yogurt evenly over the paper, place your berries in the design of the American Flag, and freeze it. That's it! Simple right? My kids thought I was a rock star when I made it lol.
Feel free to customize your own frozen yogurt fruit flag with other flavors of yogurt, different types of fruit, or other toppings. I will definitely be experimenting with some other designs for other holidays as well.
If you tried the recipe, let me know what you think in the comment section below or email me at Candice@littlestepsbighappy.com. Follow me on Pinterest here for more quick, easy, and healthy recipes. 
Quick and Easy Frozen Yogurt Fruit Flag
A healthy treat to take to your 4th of July BBQ.
Ingredients  
2

cups

Vanilla yogurt

1

cup

Fresh strawberries

1

pint

Fresh raspberries

sliced into fourths

1/2

cup

Fresh blueberries
Instructions 
Place wax paper on the cookie sheet. Spread yogurt evenly over the wax paper.

Place blueberries in the upper left corner of the yogurt. Create a rectangle 5 blueberries high and 6 blueberries across to create the "stars."

Start making the "stripes." Alternate rows of raspberries with rows of strawberries. Be sure to leave empty space in between each fruit row for the "white stripes."

Freeze for 2-4 hours or until the yogurt is frozen.

To Serve, break or cut into pieces.
You might also like: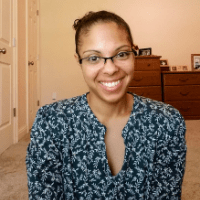 I'm a busy mom of 3 turned Health and Fitness Coach and Self Defense Instructor. I help inspire other moms to reach their health, fitness, and weight loss goals. You can usually find me chasing my kiddos around, training Brazilian Jiu-Jitsu, or sneaking away to read romance novels. About Me