Looking for a snack but don't want to blow your diet? Check out this list of healthy snacks for cravings you can eat on the go.
Have you ever struggled with snack cravings because your healthy diet doesn't allow you just to eat anything? We feel you.
Plenty of snacks are filled with empty calories and unhealthy ingredients, discouraging anyone on a diet to keep from snacking. The good news is that there are also plenty of healthy snacking options you may be unaware of that not only sort out your sweet tooth but are also nutritious.
In today's post, we'll discuss the top 12 healthy snacks for craving, how they are made, and what makes them worth eating. If you're a fan of healthy snacking, keep reading! 
Disclosure: This post may contain affiliate links which I'm happy to promote. All thoughts and opinions are my own. Much love & thank you for your support. 
 To learn more about my policy, click here.
12 Best Healthy Snacks For Cravings
Almonds
Almonds are one of the best low-carb, healthy snacks. They are rich in protein, healthy unsaturated fats, and fiber. This combination of healthy components aid in regulating blood sugar levels and satisfy your hunger & cravings. 
Almonds are also high in minerals and vitamins such as potassium, vitamin E, and magnesium, reducing the risk of cardio illnesses, curbing inflammation, and promoting your overall well-being.  
How do you make almonds? You just need to purchase raw, unsalted almonds and eat them as they are, or you can spice things add by adding them to any recipe for that extra crunch.
Want to take things a little further? To top your flavor, you can roast, season, or salt with other spices! 
Hard-boiled eggs
Hard-boiled eggs are another great choice if you're looking for one of the best and easy-to-make low-carb snacks. They're rich in protein, many essential nutrients, and healthy fats. 
Hard-boiled eggs are also a great source of Vitamin D, all the B vitamins (6 &12), and minerals like choline, zinc, selenium, calcium, and phosphorus. Since eggs are high in protein, they make you feel full faster, hence managing your hunger. 
How to prepare hard-boiled eggs: Put your raw eggs in a deep pan, and cover completely with water; you may add salt to make the shell easy to remove and boil for 10-15 minutes, depending on how hard you want them. After they're boiled, remove them from the hot water and put them into a bowl with cold water to cool. 
You can enjoy hard-boiled eggs as they are or eat them with pepper, onions, salt, tomatoes, or your favorite spices to make them tastier. 
Cheese and fruit platter
This is one of the most popular cheese-based snacks. It contains various slices of fresh fruits (berries, pears, melons, apples, etc.) with cheese (whether goat, brie, cheddar, or mozzarella cheese). 
What makes this snack healthy? Cheese is a great source of protein, Vitamins A, D, K & B12, and minerals like calcium and zinc. Fruits are rich in vitamins, fiber, carbohydrates, water, and good sugar. This healthy mixture will satisfy your hunger and cravings. 
How is it made? You only need to clean and slice your fruits, place them on a plate, then slice your favorite cheese into bite-sized pieces and do the same.
To spice things up, you can use various types of cheese for different flavors. You can eat this snack as is or place in the fridge to eat later.  
Check out some other cheese-based snacks you can pair with your favorite fruits. 
A Lemon Slice
Lemon is often perceived as only a herb, but it's also a great snack. When craving something less sweet and looking for nutrients as a bonus, go for a slice of lemon.
It's high in vitamin C, which boosts your immune system, and facilitates a quick intake of iron, potassium, magnesium, and other minerals from their food sources. Lemon is beneficial if you have a low blood count. 
Lemons are also a great source of antioxidants, which help kill free radicals that can cause cancer and regulate blood pressure. Also, if you need snacks that can keep you hydrated, especially if you like to work out, lemons are an excellent choice.
You can also check out other healthy post-workout snacks you can try here. 
When sliced into bite-sized pieces, lemons are ready to be consumed. You only need to wash them and clean your hands! You can also eat them with your meat or put them in your drink like water. 
Greek yogurt 
Greek yogurt is next on the list of healthy snacks for cravings because it's rich in protein, fiber & essential nutrients and tastes great. You can take the yogurt plain or make things better by mixing it with some berries (fresh or frozen).
Berries add to your vitamin bank, which boosts your immunity to fight illnesses.  
Greek yogurt can also be paired with granola or other nutty low-carb snacks. Whatever you eat your Greek yogurt with, it'll make you full faster, helping you manage your food consumption and satisfy your sweet tooth.  
A handful of nuts and a piece of fruit
Are you looking for a substitute for your salty, savory, sugary, and greasy cravings? Nuts are the ideal choice. They are rich in protein and heart-healthy unsaturated fats, making them perfect for people struggling with weight management or at risk of heart illnesses. 
A handful of nuts paired with a piece of fruit (any fruit) will fulfill your cravings without taking a toll on your health or denting your pocket. Some of the nuts you can try include groundnuts, peanuts, English walnuts, almonds, hazelnuts, pistachios, and cashews. 
The pair (nuts + fruits) doesn't need much preparation as they are ready to eat. You just need to clean them. 
Related posts:

Apple slices with peanut butter
Peanut butter is rich in protein and healthy unsaturated fats, and vitamin E, while apple slices are excellent sources of antioxidants, vitamin C, and fiber. The combination makes your stomach full quickly, replenishes your immune system, fulfills your cravings, and kills cancer-causing free radicals.
Peanut butter is recommended for kids and expectant mothers as it contains protein and folate. To make this snack, you need to buy some peanut butter, scoop a spoonful, and place it on a plate with bite-sized apple slices. You'll love it!  
Hummus + carrots 
Hummus is high in fiber and proteins, promoting weight loss, while carrots are rich in vitamins A, B, and C. This pair gives you a snack that is high in fiber and low in calories. 
The nutritional components you ingest from this snack can protect you against certain cancers like prostate and lung cancer. 
To make this snack, you just need to arrange your carrots alongside the hummus on a plate. If you don't have ready-made humus, make yours home by blending chickpeas, tahini, garlic, lemon juice, and olive oil until smooth.
Popcorn
Popcorn is a great snack to satisfy your cravings. It's low in calories, high in fiber, and provides a healthy dose of antioxidants.
Popcorn is also rich in vitamins and minerals, including magnesium, phosphorus, zinc, and iron. Eating popcorn can help reduce cholesterol levels, support healthy digestion, and reduce your risk of certain cancers.
To make popcorn, you can use a microwave or stovetop. Just add popcorn kernels to a bowl with a bit of oil, and heat for a few minutes. You can also add some salt or your favorite spices for extra flavor.
Trail mix
Trail mix is another great snack for those looking for a healthy alternative to satisfy their cravings. It's a combination of nuts, seeds, dried fruits, and other ingredients, giving it a great taste and plenty of nutritional benefits.
Trail mix is full of healthy fats, dietary fiber, vitamins, and minerals, making it a great snack for those who are trying to lose weight or maintain a healthy lifestyle. 
To make your own trail mix, combine your favorite nuts and dried fruits in a bowl. You can also add some other ingredients like dark chocolate chips, coconut flakes, and seeds.
Smoothie
Smoothies are a great snack for those looking for something healthy and delicious. They're packed with vitamins, minerals, and antioxidants, and you can make them with any combination of fruits and vegetables.
Adding ingredients like yogurt, oats, or nut butter can also help boost the nutritional value of your smoothie. 
To make a smoothie, just add your favorite ingredients to a blender and blend until smooth. You can also add some ice or honey to sweeten it.
Avocado toast
Avocado toast is a great snack for those looking for something healthy and delicious. Avocados are loaded with healthy fats, vitamins, and minerals, making them a great addition to any snack.
Avocado toast is also high in fiber and protein, which can help keep you full and satisfied. 
To make avocado toast, just mash up an avocado and spread it on a piece of toast. You can also add some seasonings and toppings for extra flavor.
Conclusion to 12 Healthy Snacks for Cravings
There you have it! The 12 best healthy snacks for cravings that won't sacrifice your diet. Whether you want something sweet, sour, or in-between, you have plenty of healthy snacking options!
In addition to the snacks, you can learn more tips on managing your food cravings here.
What are your favorite healthy snacks for cravings? Let me know in the comments below or email me at Candice@littlestepsbighappy.com. Follow me on Pinterest for more healthy eating ideas.
Looking for more healthy recipes?
Healthy Dinner Recipes
Healthy Snack Ideas
Healthy Lunch Ideas
Healthy Breakfast Recipes
Pin this for later!!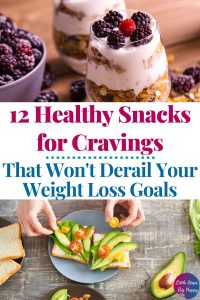 You might also like…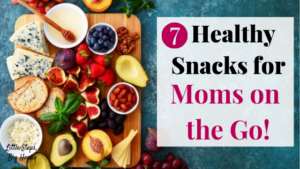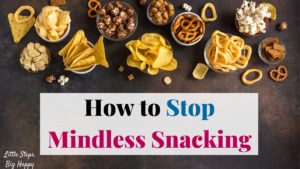 Tiffany Joy Yamut is a registered nurse and author of hundreds of health and nutrition articles focused on the ketogenic diet. She discovered the keto diet in 2019, which helped her lose 44 pounds and achieve healing.