These meal prep salads for weight loss are healthy, delicious, and perfect for anyone looking to lose weight. The salads can be prepped ahead of time, making them the perfect option for on-the-go meals.
I'm sure I'm not the only one who's been looking for this…
There is nothing I hate more than sitting around wracking my brain for healthy recipes to meal prep each week. I already know that meal prepping is a game-changer when it comes to eating healthy as a mom.
But I get suuuper tired of eating the same old things. And salads can get especially boring when you've had the same ones too many times.
Just in case you've been feeling the same way, I put together this list of 45 meal prep salads for weight loss. These salads are healthy, delicious, and excellent for making ahead of time so they're ready to go at a moment's notice.
Ready to find your new favorite salad recipe? Let's get to it!
Disclosure: This post may contain affiliate links which I'm happy to promote. All thoughts and opinions are my own. Much love & thank you for your support. 
 To learn more about my policy, click here.
How to Build an Awesome Salad
Before we dive into the list of healthy meal prep salads, let's talk about what actually goes into a good salad. Especially when you're eating salads to help lose weight, you want something that's going to be healthy and filling!
Every salad needs to have:
Vegetables
Dressing
A little something crunchy
Protein
You can of course add in some extras like fruit, herbs, grains, etc., but the basic build will always follow that pattern. Once you have a basic formula to follow, you can try different things and find delicious combos that you look forward to eating again and again.
Meal Prep Salad Containers
The next thing I want to cover is what you need to make and store these meal prep salads for weight loss. Here are a few kitchen gadgets that make the whole process a little easier:
This salad spinner makes it super easy to wash and dry your veggies. There is nothing worse than damp or soggy lettuce, so having something like this makes the whole meal prep process go by much faster.
This vegetable slicer makes all the chopping and dicing a whole lot easier. With 8 different blades, you have your pick of what size and shape you want your vegetables to be in for your salad.
These leak-proof salad containers are perfect for anyone looking to take their salad on the go. It has separate sections for all the different parts of your salad so they stay fresh and delicious when you need them.
OK, now that we've covered how to make a salad and what tools you need to make your meal prep a breeze, let's dive into the list of 45 healthy meal prep salads for weight loss!
Vegan and Vegetarian Meal Prep Salads for Weight Loss
1.) Fig Salad Made With Quinoa, Chickpeas & Pomegranate from Simple Green Soul. A healthy vegan salad idea. Perfect for mid-week lunches.
2.) Easy Quinoa Black Bean Salad from The Recipe Well. This easy quinoa black bean salad is a hearty and refreshing salad that comes together in just 30 minutes! Quinoa and black beans are tossed with fresh vegetables like cucumber, bell pepper, and carrot and topped with a zesty chili lime dressing. Perfect for meal prep, potlucks, and as a side during grilling season!
3.) Mediterranean Quinoa Salad from Cooking With Ayeh. This healthy Mediterranean Quinoa Salad is colorful, fresh, full of protein & nutrients.
4.) Lemon Chickpea & Quinoa Mason Jar Salads from Kathleen's Cravings. Just a simple lemon dressing topped with chickpeas, cucumber, tomatoes, quinoa, and lots of arugula. Perfect for easy weekday lunches!
5.) Thai Peanut Salad in a Jar from Organize Yourself Skinny. This Spicy Thai salad includes crunchy purple cabbage and cucumber, chili roasted sweet potatoes, edamame, quinoa, greens, and dressed with the most delicious homemade Spicy Thai peanut dressing.
6.) Mediterranean Chickpea Salad from Eat With Clarity. Need a delicious lunch or a side dish for a party in 10 minutes?! This recipe is full of flavor, high in protein, and perfect to meal prep for the week.
7.) Kale & Quinoa Salad from the Simple Veganista. Kale and Quinoa Salad loaded with colorful vegetables and protein-rich chickpeas for a delicious and healthy lunch, dinner, or meal prep idea!
8.) Southwest Quinoa Salad (Vegan & GF) from Foolproof Living. This Gluten-Free Southwest Quinoa Salad with chili-lime vinaigrette is a protein-packed cold quinoa salad that can be made ahead for meal prep, lunch, or dinner.
9.) Greek Couscous Salad from Chelsea's Messy Apron. A delicious and healthy Greek couscous salad that everyone will go crazy for!
10.) Mediterranean Bean Salad from The Recipe Well. Mediterranean Bean Salad is a fresh and healthy side dish, made with three types of beans, a delicious vinaigrette, lots of vegetables, and fresh herbs. It's perfect for meal prep, potlucks, and as a side dish during grilling season.
11.) Gut Health Salad Bowl Meal Prep Recipe from I Hate Meal Prep. These no-cook salad meal prep bowls are full of gut-healthy ingredients. The fiber, probiotics, and nutrients will keep you energized and help support a healthy gut.
12.) Southwest Couscous Salad from Savory Tooth. Full of delicious flavors and textures, this colorful Southwest Couscous Salad is perfect for summertime. It's a simple vegan recipe with only two steps — microwaving couscous and tossing all ingredients together — and is suitable for meal prep or parties.
13.) Cashew Crunch Shredded Brussels Sprouts Salad from Ambitious Kitchen. Delicious cashew crunch shredded brussels sprouts salad tossed in a flavorful sesame ginger dressing. This easy, vegan brussels sprouts salad recipe is loaded with colorful veggies and topped with crunchy roasted nuts. Great for meal prep and picnics!
14.) Quinoa Sweet Potato Salad from Pinch of Yum. A sheet-pan meal prep salad packed with roasted sweet potatoes, caramelized onions, crisped chickpeas, fresh rosemary, and toasty maple walnuts.
15.) Tuscan Bean Salad from Earthly Provisions. This Tuscan bean salad is a great vegan recipe for cannellini beans! It requires no cooking and has so many flavors and textures. The perfect summertime meal prep recipe.
16.) Crispy Chickpea Kale Caesar Salad from Pinch Me Good. A Crispy Chickpea Kale Caesar Salad that is hearty, healthy, and a meal all on its own. Dark leafy kale and romaine lettuce matched with amazing roasted sweet potatoes and crispy chickpeas, chopped walnuts, and red onion all topped with an amazing creamy tahini dressing. Vegetarian, easily vegan, gluten-free, and a perfect meal-prep recipe!
17.) Butternut Squash and Cranberry Quinoa Salad from Little Broken. Butternut squash cranberry salad is the BEST fall salad! Made with butternut squash, cranberries, quinoa, pumpkin seeds, and Balsamic Vinaigrette.
18.) Fall Harvest Salad from With Salt & Wit. This Fall Harvest Salad is full of fall flavors; roasted butternut squash, tender wild rice, pepitas, sweet apples, and hearty kale. And finish the salad with a seasonal Apple Cider Vinaigrette! A dish that is perfect to make ahead!
19.) Avocado Corn Salad from Cookin' With Mima. This Avocado Corn Salad is a super delicious and simple summer salad! It's a typical corn salad with added avocados and sweet cranberries.
20.) Superfood Salad from Stachio. If you love superfoods, this salad is going to be your best friend! It's full of nutrient-dense ingredients that are oh so good for our bodies. This superfood salad is vegan, vegetarian, gluten-free, and dairy-free. It's a combo of the best whole foods to help you in your healthy lifestyle.
Relevant posts:
Chicken Meal Prep Salads for Weight Loss
21.) Chopped Chicken Salad from Carmy. This Chopped Chicken Salad only takes a couple of minutes to put together and is perfect if you're looking for a filling salad. Super versatile and great as a meal prep as well!
22.) BBQ Chicken Mason Jar Salad from Sweetly Splendid. A bbq chicken mason jar salad with cool ranch, sweet barbecue sauce, black beans, corn, and cheese. A mason jar salad recipe that is perfect for meal prep.
23.) Buffalo Chicken Salad from Slow Cooker Gourmet. If you're a fan of delicious salads that are flavor-packed and hearty enough to be a meal, you'll love this Buffalo Chicken Salad! Using Slow Cooker Buffalo Chicken you make ahead, this salad comes together in minutes and is perfect for meal prep.
24.) Italian Chicken Salad from Delightful E Made. Could you use a new meal prep salad that's healthy AND delicious? This Italian Chicken Salad is the perfect mix of Italian flavors and healthy ingredients to keep you full for hours. If you need lunch salad ideas, you'll love this one!
25.) Blackened Chicken Cobb Salad from Eating Bird Food. This blackened chicken Cobb salad is packed with flavor and so simple to make. Plus, it's great for meal prep, low-carb and keto-friendly.
26.) Thai-Inspired Chopped Chicken Salad from Fed + Fit. This Thai Chopped Chicken Salad is both healthy and flavorful (thanks to fresh, bright, crunchy veggies and a ridiculously tasty peanut sauce) and will be a lunch that you'll look forward to all morning long!
27.) Chicken Caprese Salad with Avocado from Laura Fuentes. How does grilled chicken, mozzarella cheese, cherry tomatoes, avocado, and basil, drizzled with homemade balsamic dressing, sound? This isn't the traditional Caprese salad, but it's no less delicious and loaded with everything you could want in a deliciously filling lunch.
28.) Asian Chicken Salad from Blissfully Low Carb. This healthy, low carb, and keto-friendly Asian Chicken Salad is bursting with fresh flavor! A simple teriyaki-style marinated chicken is sliced over a cabbage salad, tossed in a sweet and spicy Asian Cabbage Salad Dressing. Seriously addictive!
29.) Balsamic Chicken Berry Quinoa Salad from Ambitious Kitchen. Flavorful Balsamic Chicken Berry Quinoa Salad with a sweet & tangy raspberry vinaigrette! This healthy meal prep salad is protein-packed with fresh berries, creamy goat cheese, and crunchy almonds in every bite. Add all of the ingredients to a mason jar or meal prep container, and toss it together in a bowl for the ultimate lunch!
30.) Greek Salad Bowl with Chicken from Whole Lotta Yum. This Greek salad bowl is the best way to enjoy an authentic Mediterranean salad. Combining olives, cucumber, feta, and cauliflower rice, with a delicious tzatziki sauce and chicken, this Greek salad is a hearty and filling salad that can be ready in as little as 15-minutes. Perfect for a quick dinner or made ahead as part of your meal prep days.
31.) Bruschetta Chicken Salad from the Busy Baker. This Bruschetta Chicken Salad is a delicious low-carb lunch or dinner made with simple marinated chicken breast, easy homemade tomato bruschetta, and balsamic dressing! Great for meal prep!
32.) Southwest Chicken Salad with Chipotle Greek Yogurt Dressing from Ambitious Kitchen. Delicious southwest chicken salad with black beans and corn and paired with an incredible homemade healthy chipotle greek yogurt ranch dressing. This veggie and protein-packed salad is perfect for meal prep!
33.) Greek Chickpea Chicken Salad from Ambitious Kitchen. Healthy Greek Chickpea Chicken Salad loaded with chickpeas, grilled chicken, feta, kalamata olives, red onion, tomato, and a homemade light greek dressing. This light and simple salad includes Mediterranean flavors that infuse beautifully together. Toss it all together in a bowl, layer in a mason jar, or put in meal prep containers for the week!
Beef & Bacon Meal Prep Salads for Weight Loss
34.) Taco Salad Meal Prep from Creme De La Crumb. Easy and healthy Taco Salad Meal Prep bowls you can make ahead for dinner or lunches with savory seasoned ground beef, fresh lettuce, cheese, pico, and chipotle ranch dressing.
35.) Quick and Easy BLT Salad Recipe from Laura Fuentes. Everyone's favorite sandwich loaded with beloved bacon, lettuce, and tomatoes; deconstructed into this healthy and easy meal prep lunch BLT salad.
36.) Steak Salad In A Jar from Organize Yourself Skinny. Everything you love about a hearty steakhouse salad layered into a scrumptious portion-controlled salad in a jar! This delicious Steak Salad is full of protein and drizzled with tart balsamic vinegar dressing. Bonus – this meal prepped salad is great for someone who is on a low-carb meal plan.
37.) Low Carb Big Mac Salad Jars from The Girl on Bloor. These Meal Prep Low Carb Big Mac Salad Jars are like a healthy cheeseburger – you probably already have the sauce ingredients!
38.) Italian Couscous Salad from Chelsea's Messy Apron. A healthy and simple Italian Couscous Salad that everyone will go crazy for!
39.) Steak Cobb Salad from Damn Delicious. Loaded with protein, nutrients, and greens! Plus, this is low carb, easy peasy, and budget-friendly.
40.) Antipasto Salad Meal Prep Recipe from I Hate Meal Prep. I'm a big fan of no-cook meal prep recipes and this Antipasto Salad is one of my favorites. It's low-carb and absolutely packed with flavor. The best part? You can put together a week's worth in about 10 minutes!
41.) Keto Broccoli Salad with Bacon and Cheese from Green and Keto. Classic broccoli salad made keto-friendly with crispy bacon, sharp Cheddar cheese, and a creamy sugar-free dressing. You'll love this healthy low-carb salad for make-ahead lunches, potluck parties, and keto meal-prep.
42.) Italian Chopped Brussels Sprouts Salad from Ambitious Kitchen. Gorgeous Italian chopped salad recipe loaded with shredded brussels sprouts, chickpeas, veggies, salami, olives, pepperoncini, and delicious cheeses. This flavorful and easy Italian chopped brussels sprouts salad is tossed in a light Italian dressing and makes the perfect hearty lunch or fresh dinner!
Seafood Meal Prep Salads for Weight Loss
43.) Easy Mexican Tuna Salad for Healthy Meal Prep from Cook at Home With Mom. This Mexican Tuna Salad is perfect for an easy and healthy meal prep! There's no cooking involved, so it's super quick and easy to make, plus it's bursting with bright Mexican-inspired flavor. And because it's got lean protein, lots of veggies, and good fat, it's a complete healthy meal!
44.) Mediterranean Tuna Salad – No Mayo from WonkyWonderful. This Mediterranean Tuna Salad – No Mayo is a fresh new twist on traditional tuna salad. With albacore tuna, tomatoes, cucumber, onion, artichokes, and olives this tuna salad is anything but boring! Great for lunch, dinner, and meal prep.
45.) Blackened Salmon Caesar Salad from Premier Catch. A healthy salad ready in just 15 minutes!
FAQ's About Meal Prep Salads for Weight Loss
Got a few questions about how to make these meal prep salads for weight loss work with your meal prep? I got you covered.
Here are some frequently asked questions:
How to Meal Prep Salads
Of course, the most important question is how to actually meal prep salads. Especially so they last for longer than a day or two without getting soggy and gross.
The most important thing if you're eating a salad with lettuce or greens in it, is to make sure you fully dry them out before placing them in the fridge. And don't store them with any other "wet" ingredients.
Beyond that, most of the recipes I listed above include directions on how to meal prep for the week. But just in case you're making your own salads, here are three different ways to do it:
Set up a Salad Bar
The first option is to set up a salad bar in your fridge. This works great if you'll be eating your salad at home.
Prep and chop all the different ingredients for your salad and simply store them separately in the fridge. When it's time to eat, grab a bowl, assemble your salad, and dig in!
Pack Everything Separately
If you'll be taking your meal prep salads on the go, then I suggest using a salad container that allows you to store your wet ingredients separately. You don't want your lettuce or greens to be sitting together with your tomatoes, protein, or dressing for very long.
They will quickly turn damp and soggy and won't taste as fresh and crisp when it's time to eat.
Mason Jar Salads
The last option I suggest is to use the mason jar salad approach. To do this, you need a large mason jar. Pile your ingredients into your salad starting with the wet ingredients at the bottom.
Continue to layer your salad with the ingredients that need to stay dry at the top. An example from a taco salad from the bottom to the top would be like this:
Salsa
Dressing
Tomatoes
Corn
Black beans
Ground beef
Cheese
Lettuce
When you're ready to eat, just pour your salad onto a plate or bowl and enjoy.
How do you keep salad fresh when meal prepping?
The best way to keep salad fresh when meal prepping is to store the "dry" ingredients separately from the "wet" ingredients.
When you use this approach, the dry ingredients won't be sitting in dressing or other moisture for too long. This will keep your salad nice and crisp!
Also, make sure to store your salad in a container that is as air-tight as possible.
How long do meal prep salads last?
Most ingredients in a salad can last for about a week safely in the fridge. As long as they're stored properly, they should be fine.
The protein in the salad might have different rules, however. Here are some guidelines to follow from Foodsafety.gov.
Lunch meat – 3 to 5 days
Bacon – 1 week
Cooked sausage – 1 week
Cooked meat or poultry – 3 to 4 days
Hard-boiled eggs – 1 week
What is the healthiest salad to eat?
This question can be a bit tricky depending on your diet and your weight loss goals. The easy answer, whichever salad you're willing to eat that's an improvement over your current diet.
I don't know anyone who became overweight because they ate too many salads! If you've got lots of veggies in there, some protein, and you're stopping when satisfied, then you will be good.
However, if you like to see the numbers, here's what goes into a balanced meal according to Harvard The Nutrition Source:
1/2 plate of vegetables/fruit
1/4 plate of whole grains
1/4 plate of protein
Healthy plant oils in moderation.
This can easily be accomplished with all of the salads listed on this page.
Does eating salad every day help you lose weight?
Absolutely! Especially if you were previously eating things like pizza, burgers, or something else unhealthy.
However, eating a salad won't magically combat anything else that you might be eating. So if you have a salad for lunch, but then go overboard eating a lot of unhealthy food later in the day, you aren't going to see the results that you want.
But if you use the recipes on the page as healthy meal replacements for what you currently eat and you add other healthy habits to your routine, you will definitely see some weight loss.
Is meal prepping a good way to lose weight?
Meal prepping is one of my favorite ways to make eating healthy easier! And of course, eating healthy is the best way to lose weight.
Meal prepping takes all the hard work out of making healthy eating decisions all week long. You have healthy food ready to go in your fridge that is faster and more convenient than eating out.
Which makes it so much easier to make the healthy choice after a long and tiring day. For more meal prep tips, check out my post on how to meal prep for weight loss.
Conclusion to 45 Healthy & Delicious meal Prep Salads for Weight Loss
I hope this list of 45 meal prep salads for weight loss gave you lots of new recipes to try out. I know having something healthy, delicious, and ready to go can make a huge difference in how well you stick to your diet.
Which meal prep salad for weight loss are you trying first? Tell me in the comments or email me at Candice@littlestepsbighappy.com. Follow me on Pinterest for more healthy meal prep ideas.
Looking for more healthy recipes?
Pin this for later!!
You might also like…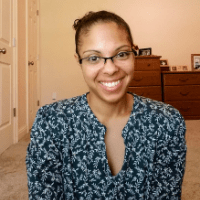 I'm a busy mom of 3 turned Health and Fitness Coach and Self Defense Instructor. I help inspire other moms to reach their health, fitness, and weight loss goals. You can usually find me chasing my kiddos around, training Brazilian Jiu-Jitsu, or sneaking away to read romance novels. About Me