Hey everybody! Today I am going to talk about no-cook meal prep ideas. Meal prepping is wonderful, but not everyone has the time or the skills to spend a few hours cooking each week.
If you are completely new to meal prepping check out my post How to Meal Prep in 4 Easy Steps. It walks you through all the steps and tricks that I have learned.
If you need some worksheets to help you plan and organize your meal prep, check out my Resource Library page.
Now that you know how to meal prep and got the tools you need to plan it, let's talk about how to plan a no-cook meal prep.
Disclosure: This site uses affiliate links. This means that if you click on some of the links and make a purchase I receive a small commission. This in no way changes the price for you and helps to support this blog. I only recommend products that I believe would offer value to my readers. To learn more about my policy, click here.
Essentials for no-cook meal preps
First, we need to identify what are some of the best foods or ingredients to use to make good meals that don't require you to cook them yourself.
The items in this list are either precooked or canned. This helps to save you lots of time and is perfect if you don't feel very confident in the kitchen.
Rotisserie Chicken
Rotisserie chickens are amazing! You can usually find them in the deli section of your local grocery store. They taste good alone or you can shred the meat off the bone to use in lots of different recipes.
Precooked Sausage
Precooked sausage is great for no-cook meal preps. You can use it as your protein for lots of recipes. You can find it in the deli section of your local grocery store.
Canned Beans
Canned beans are a very versatile ingredient. They are already cooked in the can and they come in lots of different varieties. All you need to do is drain and rinse the beans and they are ready to heat in the microwave or add to your recipe.
Salad Kits
Salads kits are another great no-cook food. The salads come prewashed, chopped, with complimentary toppings and salad dressing all ready to go. You can add some protein to make it a meal or use them as a side dish. They also come in lots of different varieties. You can find them in the produce section of your local grocery store.
Microwavable Rice
Rice makes a good no-cook ingredient because it can be added to so many recipes. It also works well as a side dish. You can find microwavable rice in the dried goods section of your grocery store. It comes in small single serve portions or bigger sizes as well.
Microwavable Frozen Vegetables
Frozen vegetables you can steam in the microwave are wonderful for no-cook meal preps! They cook in about 5-6 minutes and couldn't be easier to make. They make a great healthy side dish. You can find them in the freezer section of your local grocery store.
Fresh Fruits and Vegetables
Fresh fruits and vegetables are a great addition to a no-cook meal prep. They are super healthy and travel well. You can find lots of them pre-cut in the produce section of the grocery store to save yourself even more time.
Recipe Ideas for a No-Cook Meal Prep
Here are some meal ideas that you can use to make a no-cook meal prep. All of these recipes can be cooked using a microwave alone. They are fast and pretty healthy.
Chicken Salad
Combine some shredded rotisserie chicken with your favorite salad kit and you are ready to go.
Chicken, Rice, and Steamed Vegetables
Cut up a rotisserie chicken and use your microwave to cook the rice and vegetables. Dinner is served!
Chicken BLT Wrap w/ Fresh Fruit
Shredded rotisserie chicken, microwavable bacon, lettuce, tomato, and a little ranch dressing wrapped up in a tortilla. Add some fresh fruit on the side for a great lunch or dinner meal.
BBQ Chicken Sandwiches w/ Side Salad
Shred a rotisserie chicken into a bowl, pour in your favorite BBQ sauce, stir, and serve on a bun. Add half a salad kit as a side dish.
Chicken Quesadillas
Take a tortilla, top with shredded rotisserie chicken, sprinkle cheese over top, cover with another tortilla. Heat in the microwave until cheese is melted and you are done. Put a little salsa and sour cream on the side for dipping.
Chicken Burrito Bowl
Mix together shredded rotisserie chicken and taco seasoning in a medium bowl. Cook rice in the microwave and place in your dinner bowl. Layer on top shredded lettuce and shredded rotisserie chicken. Top with shredded cheese, salsa, and sour cream. Optional add-ins: canned beans and corn. Dinner is served!
Sausage and Bean Chili
Slice precooked sausage into 1-inch slices. Place sliced sausage, can of pinto beans, can of diced tomatoes, can of tomato sauce, and chili seasoning packet into a large bowl. Stir to combine. Pour the desired amount of chili into your dinner bowl and heat in the microwave. Optional toppings: Shredded cheese or sour cream. For a different variation, add in shredded rotisserie chicken instead of sausage.
Black Bean Taco Salad
Place shredded lettuce from a salad kit into a large bowl. Top with black beans, tortilla strips, and chipotle ranch salad dressing. Enjoy!
Black Bean and Corn Quesadillas
Place a can of black beans and a can of corn into a medium bowl. Sprinkle taco seasoning on top and stir to combine. Place a tortilla on a plate. Spread bean and corn mixture on top. Sprinkle cheese on top of beans and corn and top with another tortilla. Heat in the microwave and add sour cream or salsa for dipping. Dinner is served!
Chili Over Baked Potatoes w/ Steamed Veggies
Cook potato in the microwave. Cut in half and set aside. Pour chili beans in a small bowl and heat in the microwave. Pour chili beans over the baked potato and sprinkle cheese on top. Cook frozen vegetables in the microwave. Enjoy!
So there you have 10 no-cook meal prep ideas. These meals are perfect if you are new to cooking or need food you can make fast! Be sure to follow me on Pinterest here where you can find lots of other meal prep ideas for new or advanced cooks. If you have any other great no-cook meal prep ideas, leave a comment below or email me at Candice@littlestepsbighappy.com.
Looking for more healthy dinner recipes?
Pin this for later!!
You might also like: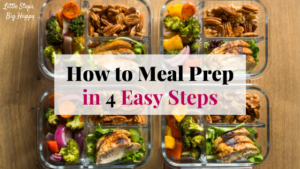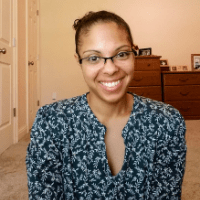 I'm a busy mom of 3 turned Health and Fitness Coach and Self Defense Instructor. I help inspire other moms to reach their health, fitness, and weight loss goals. You can usually find me chasing my kiddos around, training Brazilian Jiu-Jitsu, or sneaking away to read romance novels. About Me