Have you tried foil pack dinners yet? They are amazing! They are so good, that I rounded up 35 easy and healthy foil pack dinners, so you can have weeks of easy dinner clean up.
I am always on the lookout for healthy recipes that I can make fast. I got 3 kids, a cat, a dog, and more responsibilities than time in the day. (I'm sure you know the feeling!) So when I heard about foil pack dinners, I had to give them a try.
Disclosure: This post contains affiliate links which I'm happy to promote. All thoughts and opinions are my own. Much love & thank you for your support. 🙂 To learn more about my policy, click here.
Why are foil pack dinners so great?
The beauty of them is that they are super easy to put together and clean up is beyond simple. This girl right here is not a fan of the cleaning stuff, so I am officially in love with these. The other great thing is these meals are perfect if you are trying to eat healthy.
For most of the recipes, all you do is prep the food, wrap it in aluminum foil, and bake or grill it. Easy to make, easy to clean up, and healthy? That's pretty much a combination guaranteed to have these recipes on my regular meal rotation.
I have them organized by their main protein ingredient: beef, chicken, pork, sausage, and seafood. I hope you find some tasty options for your busy nights too!
Healthy Beef Foil Pack Dinners
Healthy Chicken Foil Pack Dinners
Healthy Pork Foil Pack Dinners
Healthy Sausage Foil Pack Dinners
Healthy Seafood Foil Pack Dinners
Conclusion
So there you have 35 easy and healthy foil pack dinners. You are officially ready to cook a healthy dinner and have clean-up be an absolute breeze! If you have any suggestions or recommendations, I would love to hear about them. I love finding new ways to feed my family healthy delicious food. (Bonus points if it's easy to clean up afterward!) You can comment below, or email me at Candice@littlestepsbighappy.com.
Looking for more healthy dinner recipes?
You might also like: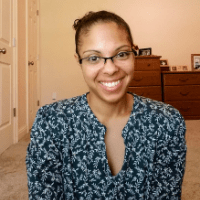 I'm a busy mom of 3 turned Health and Fitness Coach and Self Defense Instructor. I help inspire other moms to reach their health, fitness, and weight loss goals. You can usually find me chasing my kiddos around, training Brazilian Jiu-Jitsu, or sneaking away to read romance novels. About Me