If you're looking for a healthy summer treat, you should try this raspberry smoothie without yogurt. Great for anyone avoiding dairy or who doesn't have any yogurt on hand.
It's super easy to make, tastes delicious, and is healthy to drink. It's our go-to treat during the hot Louisiana summers.
Disclosure: This post may contain affiliate links which I'm happy to promote. All thoughts and opinions are my own. Much love & thank you for your support.  To learn more about my policy, click here.
About This Banana Raspberry Smoothie Without Yogurt
I don't know about yours, but my kids love smoothies. They especially love smoothies from the Smoothie King right down the street.
Which is great healthwise, but not so great on my budget. One of their favorites is a raspberry and banana smoothie.
They really enjoy the tart taste of the strawberries and the sweet flavor of the banana. Or I'm assuming that's what they like because I'm pretty sure their taste buds aren't that sophisticated.
They could happily drink them all day and I'm pleased because they're healthier than the snow cones they would also happily drink all day.
But, I got tired of spending the extra money on them from Smoothie King, so we decided to create our own at home. I chose to make this recipe without yogurt because we don't always have it on hand.
I can't say it tastes exactly the same, but it's delicious, nutritious, and the kids are satisfied, so it works for me!
How to Make a Banana Raspberry Smoothie Without Yogurt
This Banana Raspberry Smoothie without yogurt is pretty simple to make. Just add all the ingredients into your blender and hit blend.
Here are a few tips I've learned to help your smoothie blend better:
Put the liquid in first. This helps a lot if you're adding anything like protein powder or flaxseed.
Add the ice or frozen fruit in last. Sometimes they can clog up or slow your blender down if it gets too thick.
Add in half of your ice or frozen fruit, blend, and then slowly add in the rest. This makes sure your blender won't get stuck.
If your blender does get stuck: turn it off, stir it up with a spoon, and then turn it on again.
If you haven't made too many smoothies, I would closely follow the instructions the first few times. Then once you get more comfortable you can try to make slight adjustments.
What do I do if my smoothie isn't thick enough?
If your smoothie came out too thin, try adding some more fruit or ice to it. You can also try adding in more protein powder or flaxseed.
Just be careful, because too much protein powder or flaxseed can make your smoothie taste a little chalky.
What do I do if my smoothie is too thick? 
If your smoothie is too thick, try adding a little bit more milk to it. Be very careful though, a little bit goes a long way. I would try adding in just one or two tablespoons at a time until you reach the desired consistency.
Equipment Needed
All you need for this smoothie is a blender, measuring cup, and some measuring spoons. I've used quite a few blenders over time, and most of them work well for smoothies like this one.
Here is a couple that I know work well:
Related Recipes:

Substitution Ideas
It would be super nice if you always had everything on hand you need to make this Banana Raspberry smoothie without yogurt, but that's not real life. Here are some situations you can try if you're missing an ingredient but don't want to make a trip to the store.
What can you use instead of yogurt in a smoothie?
This recipe doesn't call for yogurt, but a lot of smoothie recipes do. Here are some good yogurt substitutions for smoothies:
Banana
Coconut cream
Soy milk yogurt
Almond milk yogurt
Avocado
Cooked sweet potato
Nut butter
The dairy-free yogurts are pretty seamless substitutions. We usually don't even taste the difference.
The other substitutions are a little more noticeable, but still help create a nice consistency in your smoothie.
What can you use instead of bananas?
If you don't want banana in your smoothie, you can use any of the other yogurt substitutions listed above. Dairy-free yogurt and avocado are probably my favorite substitutions for bananas.
What can you use instead of milk?
If you don't have regular milk here are some other liquids to use for your smoothie:
Water
Juice
Almond milk
Soy milk
Oat milk
Coconut milk
The milk alternatives are pretty seamless substitutions. You probably won't notice much of a difference.
You will notice a slight taste difference with water or juice, but they still work pretty well.

Banana Raspberry Smoothie Without Yogurt FAQ's
This banana raspberry smoothie without yogurt is pretty straightforward, but here are some other questions that often come up when making it.
Can you use fresh raspberries instead of frozen?
You can use fresh raspberries instead of frozen ones, but you will need to add some extra ice. The frozen raspberries help thicken the smoothie as well as add flavor.
If you want to use fresh raspberries instead of frozen, use 1 cup of fresh raspberries and 1-2 cups of ice to replace the 1 1/2-2 cups of frozen raspberries.
Can you use regular milk in place of almond milk?
Yes, you can replace regular milk with almond milk. You won't notice much of a taste difference and it's an exact swap.
Use the same amount of regular milk as you do almond milk in the recipe.
What is the healthiest liquid to put in a smoothie?
The healthiest liquid to use in a smoothie is probably water. However, it can dilute the taste a bit, especially in fruit smoothies.
My personal favorite healthy liquid to use is milk or almond milk. It adds a nice taste and texture to the smoothie and is a lot healthier than using juice.
What are some other add-ins that would be good for a smoothie?
You can add all kinds of things to smoothies, including protein and vegetables. Smoothies are one of my favorite ways to sneak in an extra bit of nutrients and vitamins that my kids might not get otherwise.
Here are some of my favorite add-ins for smoothies:
Fresh spinach
Frozen spinach
Avocado
Can I meal prep smoothies?
You can definitely meal prep smoothies. The best way is to take all of your smoothie ingredients except the liquid and place them in a freezer-safe bag.
Pop them in the freezer for up to 3 months. When you're ready for your smoothie, pour the bag ingredients into your blender, add the liquid, and hit blend.
Yummy Frozen Banana Raspberry Smoothie Without Yogurt
This yummy frozen banana raspberry smoothie recipe will give you a delicious, easy-to-make drink that's packed with nutrients!
Ingredients  
¾

Cup

Almond Milk*

1½-2

Cups

Frozen Raspberries

1

Banana

2

Tbsp

Flax Seed

Optional

1

tsp

Chia Seeds

Optional

1

Scoop

Protein powder

Optional
Instructions 
Place all ingredients into the blender.

Pour into a cup and enjoy!
Notes
*You can substitute the almond milk with regular milk, water, oat milk, soy milk, or juice.
For a thicker smoothie, add in more frozen raspberries.
For a thinner smoothie use fewer frozen raspberries or add in more almond milk.
If you try this raspberry smoothie without yogurt, I would love to know what you think! Tell me in the comments below or email me at Candice@littlestepsbighappy.com. Follow me on Pinterest for more healthy recipes.
Looking for more healthy breakfast recipes?
Pin this for later!!
You might also like…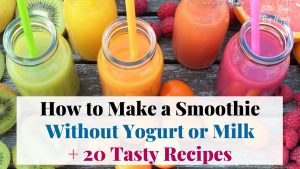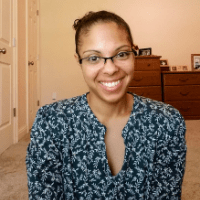 I'm a busy mom of 3 turned Health and Fitness Coach and Self Defense Instructor. I help inspire other moms to reach their health, fitness, and weight loss goals. You can usually find me chasing my kiddos around, training Brazilian Jiu-Jitsu, or sneaking away to read romance novels. About Me