Need to fit in a quick workout but your schedule is packed? Check out these top ten at-home workouts for busy moms.
We all know that exercising is super important for our mental and physical health. Especially as a mom. But we don't all have an hour to devote to the gym every day.
If you're anything like me, setting aside time to exercise can be a challenge. Especially if you spend 25 hours a day with your kids as I do. 🙄
When fitting in a workout around taking care of the kids, I find it easier to focus on quick intense workouts. Even if I can only manage to exercise 15 minutes here or there, it adds up to great results overall.
Here are some great at-home workouts for busy moms to make sure you get that quality fitness time without paying for a babysitter or hoping the hubby gets off work in time to give you a break.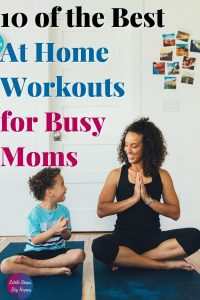 Disclosure: This post may contain affiliate links which I'm happy to promote. All thoughts and opinions are my own. Much love & thank you for your support.  To 

learn more

 about my policy, click here.
10 At-Home Workouts for Busy Moms
Full Body Beginner Strength Training Workout
First on our list of at-home workouts for busy moms is this full-body strength training routine. You can use it to tighten and tone your whole body.
Here's a quick rundown of the routine:
Legs:
Wide Leg Squats
Side Lunges
Squat Kicks
Bridges
Core:
Superman Lifts
Plank Jacks
Toe Touches
Burpees
Arms:
Small Arm Circles
Large Arm Circles
Free Arm Butterfly Presses
Side Planks
Check out the full routine here or watch the video below:
15 Min. Strong & Toned Arms Workout
If you're looking to strengthen your upper body, here's another good at-home workout for busy moms.
Here's a quick rundown of the routine:
Bicep curls
Bent over row
Tricep kickbacks
Hug a tree
Serve the platter
Front raise
Dips
Push-Ups
Arm circles
Triceps extension
Punches
Shoulder Press
Check out the full routine here or watch the video below:
10-Minute Core Workout for Moms (Safe for Diastasis Recti)
Another good at-home workout for busy moms is this quick 10-minute core workout. It's great for strengthening your tummy and is short enough to fit in during naptime.
Here's a quick rundown of the routine:
Side plank with thread the needle
Side plank with thread the needle
Spiderman walks
Superman lifts
Heel Slides
Hollow Log Roll
Check out the full routine in the video below:
Quick & Effective Legs & Booty Home Workout
Another good at-home workout for busy moms is this leg and booty workout. Tighten and tone your lower body in 15 minutes.
Here's a quick rundown of the routine:
Circuit #1:
Squats
Side lunges
Calf raises
Wall sit
Circuit #2:
Clamshells
Donkey kicks
Fire hydrants
Side-lying leg lifts
Circuit #3:
Curtsy lunges
Bridges
Reverse lunges
Deadlifts
Check out the full routine here or watch the video below:
Full Body Workout | Real Time, Beginner Friendly, Outdoor Workout!
If you want to take your workout outside, try this beginner outdoor workout. It's only 10 minutes, but it is sure to have you sweaty by the end.
Here's a quick rundown of the routine:
Warm-up:
Jog in place
Side jumps
Stretching
Jump squats
Lunges
The Workout:
Skiers
Burpee to mountain climbers
Rotating jump squats
Check out the full routine in the video below:
12 Minute Mommy and Me Toddler/Older Baby Workout – No Equipment Exercises to do with Baby
Want to get your workout done, but your toddler just won't leave you alone? Try this quick mommy and me workout!
Here's a quick rundown of the routine:
Marching in place with baby
Squats while holding baby
Side lunges with baby
Deep squats lifting your baby
Step-ups holding your baby's hands
Lunges while holding baby
Bridges while baby sits on your hips
Toe touches
Hip thrusts while holding baby
Alternating leg lifts
Crunches
Bird dog
Check out the full routine in the video below:
Total Body Bootcamp
Next on the list of the best at-home workouts for busy moms is this Total Body Bootcamp. It's a great full-body workout you can squeeze into your busy schedule.
Here's a quick rundown of the routine:
Legs
Squats
Lunges
High Knee Raises
Deadlifts
Donkey Kicks
Core
Mountain Climbers
Crunches
Bicycles
Leg Lifts
Forearm Plank
Arms
Lying Tricep Lifts
Knee Push Up
Knee Plank Shoulder Taps
Uppercut Punches
Shoulder Presses
Check out the full routine here or watch the video below:
Beginner EMOM Dumbbell Workout
Use this strength training routine to get your heart rate up and your body toned. EMOM= Every Minute on the Minute.
Here's a quick rundown of the routine:
Circuit #1:
Bicep Curls
Overhead Triceps Extension
Bent-Over Row
Overhead Press
Circuit #2:
Standing Oblique Crunch
Elevated Crunch
Scissor Lifts
Bridges
Circuit #3:
Dead Lifts
Side Taps
Hamstring Curls
Fire Hydrants
Check out the full routine here or watch the video below:
15 Min Total Body Resistance Band Workout
If you have resistance bands and about 15 minutes, definitely try out this quick at-home workout for busy moms. It targets the whole body and is short enough to squeeze in during naptime.
Here's a quick rundown of the routine:
Bicep curls
Curtsy lunge to regular lunge to shoulder press
Arm extensions
Side steps
Tricep extensions
Shoulder flies
Wide squat to narrow squat to leg lifts
Curl to diagonal press
Tricep extensions
Bicep curl pulses
Side lunge to overhead press
Alternating lunges with standing shoulder fly
Check out the full routine in the video below:
20 Min Heart Pumping Tabata Workout for Beginners
Get your cardio in with this fast Tabata workout. A great at-home workout for busy moms.
Here's a quick rundown of the routine:
Circuit #1:
Jog in Place
Jumping Jacks
Cross Punches
Butt Kicks
Circuit #2:
Split Jacks
Flutter Kicks
Mountain Climbers
Jump Rope in Place
Circuit #3:
Plyo Power Knees
Front Kicks
Russian Twists
Step-Ups
Check out the full routine here or watch the video below:
When is the best time to exercise as a mom?
Whenever your kids will let you! 🤣 It's less important about the time of day that you exercise and more important that you actually get it done.
I find first thing in the morning to be the easiest time for me to get my workouts done with few interruptions, but that doesn't work for every family.
The evenings might be easier when your spouse is home to help corral the kids. Or maybe you find nap time or your lunch break to be the best time to fit it in.
As long as you get it done, the timing isn't as important.
Here are some suggestions that have worked well for me:
Include your kids in your exercise routine
This is my children's favorite option by far! They love to spend "play time" with mom any chance they can get. This makes my workouts more silly and fun, plus everyone gets some exercise. Here are some family exercise suggestions:
Compete in family races. These can be squat jumps, frog jumps, bear crawls, or regular running. You can do these almost anywhere. All you need is a starting line and a finish line.
Do a yoga workout together. If you have a simpler yoga routine you enjoy, invite the kids to join in. You might be surprised at how well they can keep up. Plus a nice calming routine to help settle down crazy children? Yes, Please! You can try out this

Family Friendly Yoga Routine.

Take a family walk. My family loves to take a walk around the neighborhood. It's a great opportunity to spend time together, enjoy nature, and get some extra steps in for Mom.
Fit in a workout during after-school activities
Some days there just isn't any extra time to set aside for a workout. On those days, I will multitask by getting my workout in during after-school activities.
If any of your children have any music lessons, sports practice, etc. that's a great opportunity for you to fit in a quick workout. Here are some workout suggestions you can do during practice:
Do some power walking around the sports field. During soccer practice for my girls, I will often put some headphones in and power walk around the soccer field.
Get a quick workout at a nearby gym. If your child's activity is done near a gym you have a membership at, you can run in and get a quick 15-20 minute workout in. A quick workout is always better than no workout at all.
Do a quick strength workout. A few rounds of squats, pushups, and high-knees can be done almost anywhere and targets your whole body. With a resistance band, you can do these

Beginner Band Exercises for Your Arms

on the go.
Wake up early and exercise before the kids wake up
If you are an early bird, or your kids don't require you to get up early, then this is a great time to fit a workout in. I am definitely not a morning person, but even I have been able to convince myself to wake up an extra 15 minutes to hop on my spin bike in the mornings.
Here are some other ways to get a morning workout in:
Wake up early to do an at-home workout. There are countless free home workouts you can find on Youtube to get your day started. You can also go to my post here to find

14 Workouts to do At-Home Anytime

.
Join an early morning fitness class. Lots of gyms offer early morning classes for early birds and busy parents.
Wake up early and go for a walk/run. The morning is my favorite time to get out of the house to do some cardio. It's very quiet and peaceful. Plus it definitely beats being out in the heat of late afternoon or evening.
Exercise during your lunch break
If you have the option of taking a longer or extended lunch at work, you can definitely fit a workout in then. Lots of gyms offer showers and lockers so you can return to work without smelling like you just got your sweat on.
It's also a great way to break up your day and relieve some work stress. Here are some workouts you can do on your lunch break:
Walk to and from your lunch destination. Plan to eat lunch half a mile or more away from where you work. After walking there and back you will have walked at least a mile and gotten a nice break during your workday.
Head to a nearby gym and fit a quick workout in. Once again, a quick workout is always better than no workout at all. Check out this list of

30 Great Beginner Cardio Workouts

to mix it up with your next gym session.
Close your office door and do a yoga practice. If you keep a yoga mat at work and some workout clothes, you can easily close and lock your door and go through some yoga moves. Doing yoga on your lunch break will offer some nice relief from sitting at your desk all day. Try this quick

Beginner Yoga Flow Routine.
Related Posts:
Join a gym that offers childcare
This is a great option if you can afford it. A lot of community centers also have gym equipment and offer childcare for a small additional fee.
Even if you only have a short window of time, you would be surprised how many benefits you can get from a quick workout. Here are some great quick workouts to do at the gym:
Walk or run for 15-20 minutes. This is always, always a great option when you are short on time and want a quick workout without any hassle. If you use a treadmill you also have great options for upping the intensity level.
Do a few circuits on the weight machines. If you have a particular area of your body you prefer to work out on, you can hop on some of the weight machines and work through a few rounds of each machine to target that specific muscle group.
Join a fitness class. A lot of people love fitness classes. Having other people to work out with can be very motivating and encouraging.
Exercise while the baby or toddler naps
If you are at home with young children (like me!) then this might be one of the few opportunities you have to focus on yourself. Exercising while my toddler sleeps lets me get through my workouts with fewer interruptions and distractions.
Here are some workouts you can do while the baby sleeps:
Do a home workout from this post. This is another time you can fit in a home workout from Youtube or some DVDs you might have.
Go for a walk/run in your driveway. When my toddler is sleeping, I will often take the baby monitor outside and run or walk up and down my driveway. The scenery isn't exciting enough to keep me out there for an hour, but I can usually get a good 20-25 minutes in.
Invite other mom friends over for a workout. Exercising is often more fun with other people. You can always invite some friends over to join you while the baby sleeps.
Create or join a mom's fitness group that meets at a local park
This is a great idea if you are looking for a group environment, but don't want to join a traditional fitness class. You and some other moms can meet up regularly and get a workout in while the kids play at the park. Here are some ideas for possible mom fitness groups:
A walking or running group. After my first daughter was born I joined a mom's walking group. We met at a bike trail and would just walk with our babies in the stroller. It was great to get out of the house and get some exercise in.
A mom's Bootcamp class. Your mom's group can meet up at the park and you guys can do a variety of bodyweight exercises.  You can find some great ideas on YouTube or

follow me on Pinterest

for mom-friendly beginner workouts.
A mom's yoga park meetup. Invite other moms to bring their yoga mats and join you at the park. All you need is a nice grassy area and some yoga moves and you are ready to go.
Recommended Exercise Equipment for Your Home
If you prefer to exercise in the privacy of your own home, you will need your own equipment. You don't have to replicate a gym at home to get a good workout either.
A few key items are all you need to get a full workout in. Here are some options for at-home exercise equipment that are worth investing in:
A set of dumbells or kettlebells: A simple set of

dumbbells

or

kettlebells

in a couple of different sizes is all you need to get a variety of workouts in.
A yoga mat: If you want to workout at home and you buy nothing else, buy a

yoga mat

. These can be used for bodyweight exercises, weights, yoga, pilates, or meditation.
A treadmill, elliptical, or stationary bike: Having a

treadmill

,

elliptical

, or

stationary bike

is a bit more of an investment, but they give you the option to exercise any time of day. I found it cheaper to purchase a

spin bike

than to spend money on a gym membership I wasn't going to make good use of.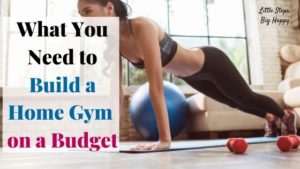 FAQ's About At-Home Workouts for Busy Moms
Now that we've covered 10 great at-home workouts for busy moms plus some good times to actually get them done, let's tackle some frequently asked questions.
How do busy moms exercise?
Short answer: get it in whenever and wherever and however you can! Being a mom is tough!
We're busy all the time, the kids always need something, and someone is always asking for a snack. So often, our workouts don't end up looking like the traditional ones we see on Instagram all the time.
A lot of moms I know end up fitting it in whenever they can. They choose times when their kids are already busy, or they find a way to keep them entertained long enough to exercise.
Here are a few posts that can help:
How do busy moms find time to work out?
As a busy mom, your workouts typically won't look like everyone else's. You'll have to do things a little differently to fit it in around your busy schedule and the needs of your families.
Here are some quick tips:
Keep your expectations realistic and flexible
Have a workout plan
Keep it short but intense
Get creative with your workout ideas
Get your family on a schedule
For more tips on how to find time to work out as a busy mom, check out this post here.
How can a busy mom lose weight?
Losing weight as a busy mom can be tough, but it's not impossible! When time is limited, it's best to focus more on your diet than exercise.
Put your time and energy into making sure you're eating healthy meals and snacks and cutting down on processed and sugary foods. Exercise is great if you have time, but your diet is going to have the biggest impact on your weight loss.
How many times a week should I work out?
If you're new to exercising, I recommend working out about 3 days a week with at least 1 rest day in between. Once you get more used to exercising regularly you can bump up to 5-6 days a week.
Just be sure that you don't overtrain your body. That can lead to injuries and set you back further than not working out at all.
I find adding in a slower-paced days like yoga or pilates in between my tough training days allows me to recuperate while still keeping the momentum going.
What is a good weekly workout routine for busy moms?
Here's a quick workout routine you can do at home that requires no equipment:
Monday: 20 minutes of cardio (jogging, skipping rope, etc.)
Tuesday: Bodyweight strength training circuit (pushups, situps, squats, lunges, etc.)
Wednesday: 20 minutes of HIIT (high-intensity interval training)
Thursday: Yoga or Pilates
Friday: Rest day
Saturday: 30 minutes of cardio
Sunday: Rest day
This is just a quick example, but you can mix and match different exercises to create your own at-home workout routine that fits your schedule. Just be sure to include both cardio and strength training for the best results.
If you're looking for more of a structured workout routine, there are plenty of at-home workouts available online and on YouTube. Just search for "at-home workouts for busy moms" and you'll find tons of options to choose from.
How do I motivate myself to work out?
Some days it's just hard to find the motivation to work out, especially when you're a busy mom. Here are a few tips to help you out:
Find a workout buddy: Having someone to work out with can help keep you accountable and motivated.
Set realistic goals: Don't try to do too much too soon. Set small, achievable goals that you can build on overtime.
Find an activity you enjoy: If you hate running, don't force yourself to do it just because someone told you it's the best way to lose weight. Find an activity that you enjoy and make it part of your workout routine.
Make it a priority: Schedule your workouts into your day just like you would any other important appointment.
Find a support group: There are tons of online and in-person support groups for busy moms trying to get fit. Joining one can help you stay motivated and on track with your goals.
Conclusion to 10 of the Best At-Home Workouts for Busy Moms
Working out at home is a great way to get fit without having to make it a big deal. These quick at-home workouts for busy moms are ideal if you're crunched for time and want to stay healthy while keeping up with your kids!
What are your favorite at-home workouts for busy moms? Let us know in the comments below or email me at Candice@littlestepsbighappy.com. Follow me on Pinterest for more fitness tips and advice for moms.
Looking for more home workouts?
Workout Roundups:
Resistance Band Workouts:
Strength Training Workouts:
Cardio:
Yoga:
Want more fitness tips for moms?
Pin this for later!
👇
👇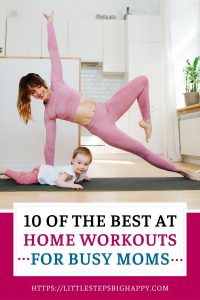 You might also like: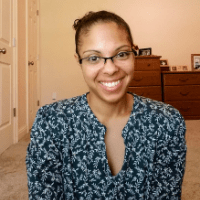 I'm a busy mom of 3 turned Health and Fitness Coach and Self Defense Instructor. I help inspire other moms to reach their health, fitness, and weight loss goals. You can usually find me chasing my kiddos around, training Brazilian Jiu-Jitsu, or sneaking away to read romance novels. About Me