If you are looking for some great beginner workouts to do at home, then you have come to the right place! Fitness is so important for our physical and mental health.
If you want some more in-depth reasons why you should find the time to exercise, read my post on The Top 5 Reasons Exercise is Important for Moms. Once you are good and motivated, it is great to have a go-to list of exercises to try to help get you started.
I rounded up a few of my favorite workouts to do at home. I have managed to do all of these with my three kids running around, so I know they are perfect for busy moms.
They are easy to fit into your schedule on a moment's notice and best of all either low cost or free! In this post, I am focusing on workouts geared to beginners. I have included a short description of each exercise as well as some links to videos or apps so you can get started as soon as you're ready!
Disclosure: This site uses affiliate links. This means that if you click on some of the links and make a purchase I receive a small commission. This in no way changes the price for you and helps to support this blog. I only recommend products that I believe would offer value to my readers. To learn more about my policy, click

here.
Walking or Running
Walking is usually the first beginner workout I recommend. If you haven't done any physical activity for a long time, I suggest you start here. Walking can be done anytime, anywhere.
Even a short 15-minute walk around your neighborhood can get your muscles moving and your heart pumping. The pace and intensity level is totally up to you, so feel free to start right where you are at and increase your effort level only when you're ready.
Running is a great cardio workout. It helps tone your muscles and build endurance for other types of physical exercise. I try to fit walking or running into my workout routine at least twice a week.
Since I always have my kids in tow, I will often take them to the park and let them play while I run around the sidewalk that circles the playground. Workout for mom plus outdoor playtime for the kids is a win, win! Here are a couple of apps I have tried out and recommend to help track your walk/run.
Run Tracker 2019
Bodyweight Exercises
Bodyweight exercises are a great beginner workout to get you started. Bodyweight exercises are strength training where you use your body weight only for resistance. This includes things like pushups, sit-ups, squats, crunches, etc.
This type of workout happens to be my personal favorite. I love to feel like my body is strong and capable, and using bodyweight exercises is a great way to achieve that. (I may or may not have been caught flexing in the mirror a few times.)
One of the benefits of this workout is that it requires zero equipment and you can do it almost anywhere. I will often get a quick bodyweight workout in during soccer practice for one of my girls.
This is another workout that is easily customizable for your current fitness level. You can do as many repetitions as you are capable of in the beginning, and as you get stronger, you can add more in.
There are also plenty of exercises for each area of your body you want to work on, so you have lots of variety to keep things from getting boring. I have added in a few links to some videos that have great beginner bodyweight workouts that you can do from home.
Strength Training with Weights
Strength training with weights is the at-home workout I wish I had known I could do as a beginner. Most of the women I know are pretty intimidated to try out using weights for one reason or another.
They may think that they will develop bulging muscles and lose some of their femininity. Or they might feel like they have no idea how to use any of the weights or equipment and they will look foolish.
First of all, using weights for strength training is very similar to body strength exercises. You go through controlled movements to tone targeted muscles groups.
The amount of muscle your body develops really depends on the size of the weight you use and the number of repetitions. When you stick to a lower weight, your muscles will not grow to enormous sizes. I promise!
This set here is perfect for women and beginners.
One of the great benefits of doing strength training with weights, even as a beginner, is being able to target specific muscles groups that can be hard to reach with other forms of exercise. I had been doing more traditional exercises for months, and I had been unable to really successfully target my lower back and the back of my thighs. One day I tried a weight training workout and came across 3 different exercises that helped me the pinpoint those areas I was missing.
I have included a few videos that include very simple, but effective weight training workouts. These workouts will help you tone those problem areas without making you look like the Hulk.
http://https://youtu.be/WIHy-ZnSndA
Yoga
Yoga is a great beginner workout for anyone who likes a slower pace or any types of meditation. This type of exercise focuses on breathing techniques and stretches. As you exercise, you will hold and move through different positions and sequences.
From the outside yoga can look pretty tame, but it delivers a surprising workout. It helps a lot with core strength, stability, and flexibility. I enjoy yoga because it can be very calming and soothing.
I usually feel refreshed and centered after a yoga practice. This mama needs that after chasing after small kids all day!
Most yoga instructors are very encouraging when it comes to practicing poses to the best of your ability. I especially like this trait in a workout for beginners, because it helps you to feel motivated to continue even when you aren't at the instructor's level. Here are a few videos to introduce you to yoga as get you started.
Pilates
Pilates is another great beginner workout you can do at home. It's is a form of bodyweight exercise that focuses a lot on strengthening your core and increasing your flexibility.
The best way I could describe it would be almost a mix between yoga and bodyweight exercises. There is a lot of focus on breathing and control, like in yoga, but the moves are similar to what you might do with bodyweight exercises.
One of the reasons I like Pilates is because it is very low impact. There isn't a whole lot of jumping or running around. This makes Pilates great for people who may have trouble with certain injuries or limitations.
As with all of the other exercises on my list, Pilates is very easy to customize. Many of the exercises come with modifications that you can do to make the exercise easier or harder. I have included a few videos so you can get a good idea of what Pilates is like.
http://https://youtu.be/D3TC-tz3TeQ
http://https://youtu.be/_7MP6Q8C_NM
Zumba
Zumba is a good beginner at-home workout for anyone who gets bored doing the more traditional exercises. Mostly because Zumba is fun! It combines great music and fun dance moves to give you a really great cardio workout.
I usually finish a Zumba workout feeling like I'm all that and a bag of chips! Zumba is a great beginner workout because it almost doesn't feel like exercise. You are just dancing to the music and having a good time.
It's also easy to lower or raise your intensity based on your current fitness level. Here are a few Zumba videos to get you dancing.
Cardio Kickboxing
I included cardio kickboxing in my beginner workout list because it is the one I used to get started on my fitness journey. I originally joined a kickboxing class to get out of the house and find some "me-time." Now that I have had another child and life has gotten a little busier, I do it at home.
Cardio kickboxing uses kicks and punches to get your heart rate up and your whole body moving. Cardio kickboxing builds up great cardio, endurance, and muscle tone.
I really like cardio kickboxing because, with all the punches and kicks thrown in, it's a great way to get some feelings out. I'm not saying I imagine my husband's head as the target some days, but I usually feel much more kindly to him afterward.
Cardio kickboxing is easy to customize by lowering your pace or the number of repetitions you fit in during each exercise. Here are some videos to get you punching and kicking your way into fitness.
All-in-one Programs
So in this list, I have included two all-in-one fitness programs. They aren't free like the other videos on this list, but I personally think they are worth the expense. Both of them are fairly low cost and you could pay for a yearly subscription for the same price as a monthly gym membership.
Plus if you are a fan of one-stop shopping and endless variety in your workouts, then these can't be beaten.
They can both be done at home whenever you want and they require minimal equipment. They include beginner, intermediate, and advanced workouts.
This is nice because you won't always be a beginner. Once that body gets nice and strong you will be ready to move on to more challenging workouts, and it's great to already have a source of workouts you are familiar with.
Aaptiv
The first all-in-one program I recommend for beginner workouts is an audio fitness app called Aaptiv. Y'all this is the one! My husband heard about this app from an article on NPR listing some of the top exercise apps. He told me about it and it sounded good so I gave it a try. I'm so glad I did because I am kind of obsessed.
The app consists of audio classes only. Each class has a fitness coach who talks you through the workout step by step. They are very encouraging and motivating!
They are also very good at explaining how to do the moves even without the visual. For a lot of the strength exercises, they do include pictures to help you understand how to do the moves.
I usually prefer working out with other people because I like the company and interaction. When I use this app I feel like they are right next to me encouraging me to push and do my best. This is great because it frees me up to do my workouts any time of day and not be reliant on someone else's schedule.
What types of workouts do they have?
They have workouts for the treadmill, outdoor running/walking, strength training, stretching, elliptical, indoor cycling, yoga, meditation, and stair climber. The workouts range from beginner to advanced and the quality is top-notch!
They are constantly updating their workouts, so you have lots of variety and never get bored. I have been using this app for a 8 months, and I have yet to need to do a workout more than once if I don't want to. They offer a free 7-day trial so you can try before you buy. You can find more information about Aaptiv here.
Daily Burn
The second all-in-one program I recommend for beginner workouts is Daily Burn. Daily Burn is a membership program that includes thousands of videos that stream directly into your TV, laptop, or phone. The membership covers workouts for cardio strength, yoga, barre, pilates, cardio kickboxing, prenatal/post-natal, flexibility/stretching, and many more. They also offer group classes or 1-on-1 training.
Daily Burn offers the option to add in more information which allows them to tailor class schedules specific to your preferences. The program can also track weight, calories, burned, past history, and weekly goals.
Each day they post a new 30-minute workout at 9:00 am that members can then access anytime they want throughout the day. The workouts range from beginner to advanced and everything in between.
If you are looking for variety and consistency, this is a great program to use. They also offer a free 30-day trial if you want to try the program out before you commit. You can find more about Daily Burn here.
So here's the roundup of my favorite beginner workouts you can do at home. I hope you guys found this list useful.  Check out my post here for ideas on how to fit some of these workouts into your daily schedule. If you have a favorite workout for busy parents, please feel free to comment below or email me at Candice@littlestepsbighappy.com
Looking for more workouts?
Workout Roundups:
Resistance Band Workouts:
Strength Training Workouts:
Cardio:
Yoga:
Pin this for later!
👇
👇
You might also like: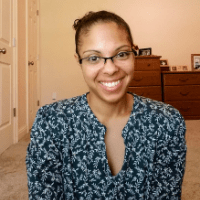 I'm a busy mom of 3 turned Health and Fitness Coach and Self Defense Instructor. I help inspire other moms to reach their health, fitness, and weight loss goals. You can usually find me chasing my kiddos around, training Brazilian Jiu-Jitsu, or sneaking away to read romance novels. About Me