Today I wanted to talk about my favorite ways to get a quick workout at home. As a busy momma with 3 kids, I do NOT have time to get to the gym.  But I am not prepared to let my fitness suffer, so I am all about the home workouts!
If you are anything like me, going to the gym hardly feels worth the effort. Especially if you are just trying to fit in a quick workout.  If you only plan on exercising for 20-30 minutes, it's probably not worth the drive.
I love waking up first thing in the morning and getting my workout in at home. It really sets the tone for my day and it's a whole lot easier to do when the kids are still sleeping. Doing my quick workouts at home also helps me catch a few extra minutes of sleep. (A necessity these days lol.)
Disclosure: This site uses affiliate links. This means that if you click on some of the links and make a purchase I receive a small commission. This in no way changes the price for you and helps to support this blog. I only recommend products that I believe would offer value to my readers. To learn more about my policy, click

here.
7 Ways to Get a Quick Workout at Home
So in this article, I will talk about my favorite ideas for getting a quick workout at home. Then I will give you a few ideas or suggestions for specific workouts you can do.
If you need some ideas for how to find the time to work out, especially as a mom, check out my article on 7 Ways to Get a Quick Workout: even with your kids around.
Try a YouTube video for a quick workout at home.
My first idea for a quick workout at home is to do a YouTube video. YouTube is a smorgasbord of FREE fitness videos.
You can find videos for yoga, strength training, weights, dance, hula hooping, pilates, etc. The list is really endless. You can also find videos that range in difficulty from beginner to advanced.
This is always my very first suggestion for anyone who wants to try out a new type of exercise. It's a great way to try out something new risk-free in the comfort of your own home.
For a list of some videos that I have tried out and recommend, check out my post Beginner Workout Roundup: 14 Workouts to do at home, anytime.
YouTube Channel Suggestions
Download a fitness app on your phone.
Downloading a fitness app on your phone is another great way to get a quick workout at home. They are convenient and usually free or fairly inexpensive.
Fitness apps are also great if you want the option to easily continue a workout routine at the gym or maybe when traveling.
I personally live off my phone, so I like having my workouts in the same convenient place as everything else. Below are a few of my favorite fitness apps that I have tried out.
Fitness App Suggestions
Invite a friend over for a "fitness playdate."
Misery loves company! Lol. Or maybe something a little more positive than that. Ok, in reality, working out is just a lot more fun with some company.
Another great way to get a quick workout at home is to invite a friend over and do a partner workout. I personally tend to push myself harder when others are around, so it always ensures a great workout.
If you have other mom friends, invite them over for a fitness playdate. The kids can play while the moms get a quick workout in. Win-Win!
Partner Workout Suggestions
Go for a walk or run in your neighborhood.
Taking a walk or run in your neighborhood is a great way to get a quick workout at home. Going for a 20-30 minute walk is one of my number one recommendations for people who are just starting out with exercise.
You can easily grab the kids or a friend and get your workout done while getting to appreciate being outside a little bit.
If you're looking to get a more advanced workout in, take a quick run around your neighborhood and try to get some sprint intervals in.
Tips for Walking or Running
Invest in exercise equipment for your home.
Another way to ensure you never need to leave your home for a great workout is to invest in your own exercise equipment. Having some equipment at home allows a lot more flexibility and variety to your workouts.
I admit, I waited a little while to do this, because the initial expense seemed a little high. Once I realized how much money I would save myself by having the equipment at home, instead of investing in a gym membership I would never have time to actually use, I quickly hopped on board.
This list of items below are the ones that I have in my own home. You don't need all of them to get a great workout, but it's a good place to start. These items help make sure I have plenty of variety in my exercise routines, so I don't get bored.
Recommendations for Exercise Equipment at home
Try a strength training routine for a quick workout at home.
If you aren't sure where to start for your home workouts, try strength training. Strength training is an area that many women neglect for fear of becoming too "muscley" or looking unfeminine.
The truth is, it's a crucial part of maintaining a fit and healthy body that will function well into your elder years. Our bodies need strong bones and muscles to help support us as we age. Here are some other great benefits of strength training.
Strength training helps:
Burn fat

Increase strength

Speed up your metabolism

Decrease your chances of osteoporosis

Lower your risk of heart disease

Beginner Strength Training Workouts to Try
Try yoga for a quick workout at home.
The last idea I wanted to share for a quick workout at home is yoga. Yoga is great because all you need is a towel or a yoga mat and you are good to go.
Yoga is great for flexibility, mobility, and stress relief. Which some of us may or may not need a lot more of. (It's me! I need it lol.!)
Yoga is also nice because in 15-20 minutes you can get a great workout and then go about the rest of your day. Here are some great beginner yoga routines to try.
Yoga Routines to Try
Conclusion
So there you have 7 of my favorite ways to get a quick workout at home. Plus some suggestions of some routines to try. I hope you found some good information that will help you get to that workout today. 🙂
If you're looking for some more great home workouts, check out my Fitness Planner Bundle. It has worksheets to help you plan out your weekly exercise routine plus 14 printable home workouts. You can find it HERE.
Share your favorite way to get a quick workout at home. Comment below or email me at Candice@littlestepsbighappy.com. You can also follow me on Pinterest for more great home workout ideas.
Want more fitness tips for moms?
Pin this for later!
You might also like: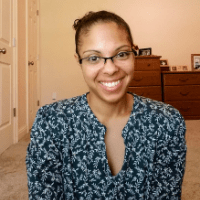 I'm a busy mom of 3 turned Health and Fitness Coach and Self Defense Instructor. I help inspire other moms to reach their health, fitness, and weight loss goals. You can usually find me chasing my kiddos around, training Brazilian Jiu-Jitsu, or sneaking away to read romance novels. About Me