Ever feel like you would love to workout at home, but you just can't afford to buy a ton of exercise equipment? Well, girl, don't you worry, because I got you covered! I'm going to share with you my favorite inexpensive equipment to help you build a great home gym on a budget!
Home workouts are my favorite! I got 3 kids and no time to be running back and forth to the gym. I also don't have a huge exercise budget.
We are a single income family and spending a ton of money on workout gear is simply not an option. For that reason, I have had to build my home gym on the cheap.
In this post, I'm going to share with you my favorite inexpensive equipment that I bought that help me get a killer workout. With these items at home, I'm not even missing the gym and I'm still flexing arms of steel. 😉💪
Disclosure: This site uses affiliate links. If you click on one of the links and make a purchase I may receive a small commission. This doesn't change the price for you and helps to support this blog. To learn more about my policy, click

here

.
What You Need to Build a Home Gym on a Budget
Yoga Mat
My very first recommendation is a yoga mat. Yoga mats are great for doing yoga (obviously), strength training, pilates, and more. If you do any type of exercise where you have to get down on your hands and knees or lay down, you're going to want a yoga mat.
If you're on a super strict budget you can get this first one here for pretty cheap. For those who have at least a little wiggle room, you can get this second one that is a little nicer and (let's be honest) a whole lot prettier. 😊
Price:

$21.49
Price:

$10.99
Resistance Bands
The next item on my list of budget-friendly home workout equipment is resistance bands. Resistance bands are great for increasing the intensity of your strength training. They can also be super useful to help with stretching if you are on the less flexible side.
You can choose between getting a set of mini loop bands or a set of flat resistance bands. The mini loop band is great for doing leg and butt workouts.
Jump Rope
The next recommendation I have for building a home gym on a budget is a jump rope. Jump roping is a great way to get in some quick cardio.
This one here is inexpensive but will still get the job done well.
Stability Ball
The next item on the list is a stability ball. As its name suggests, this piece of equipment is great for building those core stability muscles.
When you use a stability ball in conjunction with some basic strength training moves, it adds a whole new dynamic!
You can find this one here for a great price.
Dumbbells
The next item I recommend for your home gym on a budget is dumbbells. Dumbbells are great for strength training and are a core piece of any home gym.
This beginner set here will last you for quite a while in your workout journey.
Cardio Machine
The last item on my list is a cardio machine. This item here is probably going to be where you spend the majority of your workout budget.
Cardio equipment can be pretty expensive, so if money is really tight, I suggest you just buy your favorite piece to start off with. You can always purchase some other pieces later on down the line. (That's what I did!)
Below I'm going to include some inexpensive options for the basic cardio equipment you would find in a gym.
Treadmill
The first item on the cardio equipment list is this treadmill here. I bought a treadmill for our home gym when I started training for my half marathon and I haven't regretted it. Whether I'm doing a sweaty run or just a nice walk to loosen up sore muscles, it's been a great purchase.
This one here has 12 preset programs and 3 manual incline levels.
Spink Bike/Stationary Bike
The next piece of cardio equipment I recommend is a spin bike or a stationary bike. These are great, low-impact options for cardio.
The spin bike was my very first piece of cardio equipment I bought. I picked it because I wanted to be sure I was investing in something I would actually use.
I have had this one here for over a year and it's held up great.
Elliptical
An elliptical is another great choice to add to your home gym on a budget. Ellipticals are low impact and a great way to get in some full-body cardio.
You can find this one here for a great price.
Rowing Machine
The last piece of equipment I recommend to build your home gym on a budget is a rowing machine. I haven't bought one yet, but from everything I have heard, these are fabulous for getting a great workout.
I'm eyeballing this one here as my next purchase for my own home gym.
Conclusion on What You Need to Build a Home Gym on a Budget
So there you have everything you need to build a killer home gym on a budget. Whether you just hate the gym or can't swing an expensive gym membership every month, you can still get a great workout at home.
Don't let a small budget hold you back from getting fit and in shape from the comfort and privacy of your own home.
What do you have in your own home gym? Comment below or email me at Candice@littlestepsbighappy.com. Follow me on Pinterest for more tips and advice on home workouts.
Pin this for later!!

👇

👇
You might also like: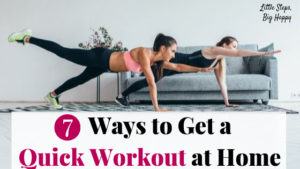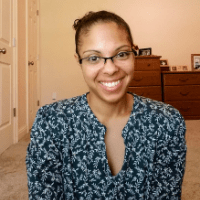 I'm a busy mom of 3 turned Health and Fitness Coach and Self Defense Instructor. I help inspire other moms to reach their health, fitness, and weight loss goals. You can usually find me chasing my kiddos around, training Brazilian Jiu-Jitsu, or sneaking away to read romance novels. About Me