Whether you are shopping for yourself or someone else, you should check out this great list of fitness gift ideas for Christmas for women. These are all items that I personally have found very useful when it comes to working out on a regular basis.
This list covers workout clothing, accessories, and exercise equipment. I didn't add a lot of fluff to this list, because I personally like to spend my money on things that are either multi-purpose or help make a big impact on my workouts.
If you are also shopping for fitness gifts for guys, check out my post 15+ Gift Ideas for Dads Who Like to Workout.

Disclosure: This site uses affiliate links. This means that if you click on some of the links and make a purchase I receive a small commission. This in no way changes the price for you and helps to support this blog. I only recommend products that I believe would offer value to my readers. To learn more about my policy, click

here.
The Top Fitness Gift Ideas for Christmas for Women
Fitness Gift Ideas for Christmas:

Clothing Essentials
This section of the fitness gift ideas for Christmas list is all about clothing. If you are shopping for someone who doesn't haven't much workout gear, then this list will have you covered with all of the basics. They will be looking good and feeling comfortable while they exercise all year long.
I had to start this list out with some Christmas leggings because holiday leggings are just plain fun. They are a great way to get in the spirit of the season while still getting your workout on. Click the photo to find this pair. Click HERE for more patterns.

Here are some great leggings you can wear year-round. They are high waisted and have a pocket for your phone. Find them HERE.

This sleeveless tank has a cute detail on the back and comes in a variety of colors. I use tops like this for warm-weather workouts or for layering during the colder months. Find it HERE.

This short sleeve top is a good staple for any fitness lover's wardrobe. It's comfy, wicks moisture away from the body, and comes in lots of colors. Find it HERE.

This workout shirt is perfect for colder weather. It comes in lots of colors and has thumbholes to help hold the sleeves in place as you exercise.
The back design is also cute and feminine so you can feel good during your workout. Find it HERE.

This next item on the fitness gift ideas for Christmas list is headbands. Headbands are great for taming some of that crazy workout hair! They also help by cutting back on how much sweat is dripping in your eyes from those killer workouts. 😉 Find this set HERE.

If you have ever had to run outdoors in the fall or winter, you know how wonderful some ear warmers are! This time of year they are a great gift for anyone who likes to exercise outside. Find this one HERE.

Here is another great gift for exercising outdoors this time of year. These gloves are lightweight but warm and have a touchpad on the finger so you can still use your phone. Find them HERE.

Wearing the proper kind of shoes when you exercise is crucial. They help support and protect your feet as well as prevent injury while exercising. Click the picture to see this pair of running shoes. Click HERE to see different types of exercise shoes (walking, running, cross-training, etc).

Fitness Gift Ideas for Christmas:

Fitness Accessories
This section of fitness gift ideas for Christmas has accessories and items that make workouts a little more convenient or effective. These are nice wishlist items that will make the receiver's future workouts that much better.
A fitness activity tracker works well for tracking your steps and exercise. They are great for reminding you to get more active throughout the day. This one tracks your steps, heart rate, sleep patterns, and several different types of exercise. Find it HERE.
This yoga bag makes taking your yoga practice on the road a lot easier. It's got a pretty design and a handy pocket on the side. Find this one HERE.
Wireless earbuds are a fabulous gift for anyone who likes to workout. I can not tell you how many times I have accidentally yanked out my earbuds by accidentally pulling the wires while exercising. This pair is compatible with most operating systems. Find them HERE.

This water bottle is great! It helps you keep up with your water intake so you can know if you are on track for the day. It's also leak-proof and comes in different colors and motivational phrases. Find it HERE.

Hydration backpacks are great for longer exercise sessions. They work well for running, hiking, walking, or sporting events. This one is reflective to help the wearer be seen better in the dark. See this one and the other colors available  HERE.

A running belt is a great way to hold items when you are working out. They are especially nice for things like long runs, hikes, or walks. This one is sweat and waterproof, adjustable, and fits most phone sizes. Find it HERE.

Massage roller sticks are great for massaging out those sore spots after a tough workout. With one like this, you don't have to head to the spa to get some relief. Check it out HERE.
Price:

$14.99
Price:

$14.99
Fitness Gift Ideas for Christmas:

Exercise Equipment
The last section of fitness gift ideas for Christmas covers exercise equipment. The items in this section cover everything from strength training to cardio. Everything you need for a basic set up for a home gym.
Kettlebells are great for strength training. This is a basic set perfect for beginners. Find this set HERE.

Dumbbells are also great for strength training. This beginner set is a great place to start for women new to weight training. Find this set HERE.

This mini loop resistance band is a great way to up your strength training. They are very versatile and take up less room than other items like kettlebells or dumbbells. Find them HERE.
Price:

$9.99
Price:

$18.99
Here is another type of resistance band that is great for a home gym. The longer shape of these bands gives the user a lot of options for different exercises to do. You can use them in place of dumbbells with only slight modifications required. They also work well for stretching. Find them HERE.
Yoga mats are great for so much more than just yoga! I use mine for stretching, meditation, and strength training. This one here has several beautiful patterns to choose from. Find it HERE.
Mini trampolines are fabulous for a low impact cardio workout. Plus, they are a lot of fun! I really like to use mine when I want to mix my routine up a bit. Find it HERE.

This workout bench is great to use for weight training and strength training. It has 2 different height positions and some nice internal storage for things like dumbbells. Find it HERE.

A treadmill is one of the easiest ways to fit in some cardio. With a treadmill at home, you never have to worry about driving to the gym or bad weather ruining your workout.
This bad boy here is pretty nice. It has 12 preset programs for lots of variety in your workouts. The treadmill also has 3 manual incline settings, 0.5-10mph speed, and has a weight capacity of up to 300lbs. It also has heart sensors and folds up when not in use. Find it HERE.

The last item on my list of fitness gift ideas for Christmas is a spin bike. A spin bike was my very first large piece of fitness equipment. I chose it because spin bikes are great cardio while still being low impact and a good choice for beginners.
This one has a 35lb flywheel to help you get a nice cardio workout no matter what your fitness level is. It has easily adjustable handlebars and seat that works well for most body sizes. The LCD monitor also tracks your time, speed, distance, and calories burned . Find it HERE.

Conclusion on Fitness Gift Ideas for Christmas for Women
So those are the top fitness gift ideas for Christmas for women. I think any fitness lover would be happy to receive any of these items for Christmas this year. (I know I would! 😂) 
What would you put on your fitness Christmas list? You can tell me in the comments below or email me at Candice@littlestepsbighappy.com. Follow me on Pinterest for more great gift ideas for moms.
Pin this for later!
👇
👇
You might also like: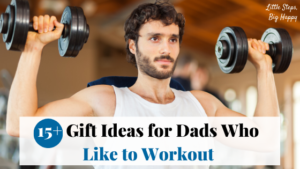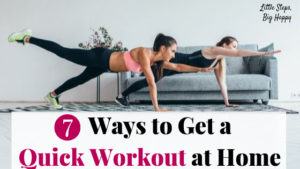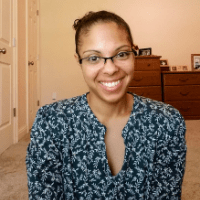 I'm a busy mom of 3 turned Health and Fitness Coach and Self Defense Instructor. I help inspire other moms to reach their health, fitness, and weight loss goals. You can usually find me chasing my kiddos around, training Brazilian Jiu-Jitsu, or sneaking away to read romance novels. About Me