If you're looking for stocking stuffers for runners, this list has inexpensive ideas that are sure to please. I've rounded up 40+ of the best stocking stuffer ideas.
These gifts range from running apparel and accessories to gadgets or jewelry that will help celebrate your runner's favorite sport. Whatever the budget, we have something that's perfect!
Disclosure: This post may contain affiliate links which I'm happy to promote. All thoughts and opinions are my own. Much love & thank you for your support. 
 To learn more about my policy, click here.
40+ Great Stocking Stuffers for Runners: Inexpensive Gifts for Runners
The majority of these gift ideas are geared toward women. However, there are a few items that would work for men or women with a slight color change.
I've split the list up into 2 sections:
Stocking Stuffers for Runners Under $20
Stocking Stuffers for Runners Under $10
If you see something you think might make a good gift, just click the picture or the "Find it HERE" link below the description.
Stocking Stuffers for Runners Under $20
Copper Compression Socks Women & Men
I actually have a few pairs of these compression socks and they make a great stocking stuffer for runners. They help reduce fatigue, soreness, and prevent injuries.
Plus, it comes with a pack of 6 and the colorful patterns are fun. 🙂
E Tronic Edge Running Belts
As someone who has had to run while holding my phone in my hand, I can tell you a running belt makes a great inexpensive Christmas gift. This one has room for your phone, keys, a driver's license, and even a sealed hole for your headphones.
With an adjustable strap and water-resistant material, this is a gift for runners.
Muscle Roller Leg Massager
Ok, I admit that this leg roller is a little big to fit in a Christmas stocking, but it's a must-have piece of equipment for runners. Being able to roll out your leg muscles can help massage deep into the tissue and eliminate soreness and boost recovery.
Geila Handheld Water Bottle for Running
This handheld water bottle is perfect for runners who want to stay hydrated without having to actively hold a heavy water bottle. It has a strap to help you easily hold on, plus a zippered pocket to hold keys, phone, money, etc.
Hands Free Dog Leash
This hands-free dog leash makes a great stocking stuffer for anyone who likes to run with their dog. The waistband is adjustable and the leash is shock-absorbing so it's more comfortable for dog and runner.
The waistband also includes a zippered pouch to carry your keys, phone, wallet, etc.
Water Resistant Cell Phone Armband Case
A cell phone armband is a great stocking stuffer for runners. Help them easily carry their phone with them on runs.
Runner Inspiration Phone Case
With a pretty design and inspirational message, this phone case is a great stocking stuffer for runners.
SULWZM LED Reflective Running Vest
A reflective vest is a great gift for anyone who runs at night or early in the morning. Both sides of this running vest have 3 different settings for the LED lights and it comes in 6 different colors.
LED Safety Light (2 Pack)
If you're looking for something to help keep you visible for night runs, but you don't want a bulky vest, these safety lights make a great choice. They come in a variety of colors and are small enough to clip onto an armband, waist, or running belt.
Running Mantra Bracelet
This mantra bracelet makes a fun inexpensive Christmas gift for runners. It's simple, cute, and can be worn for any occasion.
Run with Your Heart Lace Tag
These lace tags are a fun little gift for runners. They attach to your shoelaces and have inspirational messages to help motivate the wearer.
Joycuff Inspirational Bracelets for Women
Another great stocking stuffer for runners is the adjustable inspirational bracelet. The wearer can feel inspired and motivated every time she puts her bracelet on.
ICTIVE Womens Cross Backless Workout Tops for Women
This top made the list because it's super cute. Tank tops make great layers for runners in the winter.
During the summer, the style in the back will also allow some much-appreciated airflow. The shirt also comes in 18 different colors, so you can grab a few in different colors.
WINGZOO Workout Tank Tops for Women
I love this motivational workout tank for women. If the person you're shopping for has a sense of humor, this shirt is a good choice.
In fact, it's at the top of my own list of stocking stuffers for runners I'll be slipping to my husband on the sly. It comes in several different colors and styles so you can find one you'll runner will enjoy.
TShirt For Female Runners
Another great motivation t-shirt for runners. It comes in 5 different colors, so you can pick the one that fits the wearer.
BALEAF Women's 6″ High Waisted Athletic Shorts with Pockets
These running shorts are a great inexpensive gift for runners. I have 2 pairs and they are my favorite running shorts.
The side pocket is deep and snug so it can easily hold your phone there. The waistband always stays in place throughout my workout and the material is thick enough you don't need to worry about sweating or bending over.
TrailHeads Women's Ponytail Headband
I can personally attest to the fact that cold ears make for a miserable run. This headband has room for a ponytail in the back while still keeping the wearer's ears snug and warm.
BALEAF Women's Long Sleeve UV Shirts Quick Dry
This running shirt is perfect for runners. It's quick-dry to help wick away sweat and keep the wearer comfortable.
It's also has UV protection and comes in 11 different colors.
Women Reflective High Waisted Running Leggings with Pockets
These leggings are super cute and functional. They have reflective stripes going down the side to increase visibility and deep pockets on the side to hold your cell phone.
The Complete Runner's Day-By-Day Log 2021 Calendar
This runner's logbook can help runners track their progress all year. It includes room to track a run every day of the week and motivational quotes and tips throughout the book.
Build Your Running Body (A Total-Body Fitness Plan for All Distance Runners, from Milers to Ultramarathoners—Run Farther, Faster, and Injury-Free)
This book for runners promises a program to help "runners will improve their times, run longer and more comfortably, and reduce injury."
With over 150 workouts, race strategies, nutrition guidance, and over 30 recipes, there is bound to be plenty of information to help the reader take their running to the next level.
Related Posts:
Stocking Stuffers for Runners Under $10
Crazy Compression Runners – Elite Compression Running Socks
These compression socks are cute and comfy and great for runners. They come in over 30 different color combinations so you're sure to find a few you like.
E Tronic Edge Headbands for Men & Women
Headbands are great for keeping hair and sweat out of your face as you run. These headbands are lightweight and quick-dry so they can help keep the wearer cool and comfortable during your run. They also come in 9 different colors.
Running Caps
These hats are perfect for running because they're lightweight and have mesh running along the sides. They provide the shade and comfort of a hat without worrying about overheating. They come in four different colors.
Cold Weather Running Gloves
These running gloves make great stocking stuffers for runners. They will keep the wearer's hands warm and cozy during those cold-weather runs. They come in four different colors so you can pick and choose which ones you like.
Sports Headband
These sports headbands are a nice inexpensive gift to help keep the hair out of the wearer's face during runs. With a non-slip layer, they stay in place throughout your run.
Cooling Towels
These cooling towels are great for cooling off during a long run. Just rinse them underwater, ring out the extra water, and then wear them around your neck and head. (If bright green isn't your thing, they also have 8 different colors to choose from.)
Body Glide Original Anti-Chafe Balm
Say goodbye to chafing with this anti-chafe balm. There is nothing worse than getting chafed from running. Simply apply it before you get dressed and your runs instantly become more comfortable.
SABRE RED Pepper Gel Spray for Runners
Help your runner feel safer running alone with this small hand-held pepper spray. The strap allows the wearer to easily hold it in their hand for instant access during their runs.
A must-have for women running alone or in isolated areas.
Reflective Bands for Arm/Wrist/Ankle/Leg
These reflective bands are a great choice for night running. They add visibility to the wearer but are less bulky than a traditional reflective vest.
You can wear them on the arms, wrists, ankles, or legs. They also don't require batteries, so you never have to worry about them failing to work when you need them.
Foot Massager Roller
This foot massage is a perfect stocking stuffer for runners. Help them relieve soreness and tension in their feet after a long run.
It's also small enough to be easily portable while traveling or at work.
Solo Sleeve – Hands-Free Hydration clamp with Bottle
This little water bottle holder is perfect for taking on runs. It has a padded clamp to comfortably attach the water bottle holder to a waistband, running belt, or strap.
It also has little pockets on the side that could hold keys or a driver's license.
Running Belts Phone Holder for Women
Here is another running belt that would make a perfect inexpensive gift. It easily holds everything the wearer might need to take with you on your run so you can stay hands-free while keeping up with all of your stuff.
Stemless Wine Glass for Runners
This wine glass makes a great stocking stuffer for runners. Each line has a race distance on it. A fun gift for runners and wine drinkers.
Medal Holder Display Hanger Rack
This medal holder might be a little big to be a stocking stuffer, but it makes a great little inexpensive gift for runners. Help them display their medals proudly on the wall with this hanger rack.
13.1 Marathon Female Runner Vinyl Window Decal
Running a race is an achievement to be proud of! With this runner window decal, they can share their accomplishments with everyone. Click the link below to find this decal and some of the other distances and styles they have to offer.
Running Race Motivation Wall Art Sticker
We could all use a little extra motivation to get up and get moving. This wall art sticker can help inspire and motivate you to keep working toward your goals.
The Runner's Journal
Help your runner keep track of their running progress with this simple runners journal. It has room to track distance, pace, route, companions, and any other important information to help you train your best.
Runner's World Complete Book of Women's Runnning
This book is a fabulous resource for women runners at all levels. It has advice on training for races, weight loss, nutrition, running during pregnancy, preventing injuries, and more.
Runner Keychain
This keychain is both functional and inspirational. Keep up with your keys while also getting a little motivation to inspire your next run.
She Believed She Could So She Did Runner Keychain
This cute keychain makes the perfect stocking stuffer for runners. Giver her a memento to help her remember her accomplishments and goals.
Runner Bracelet
This running bracelet makes a great stocking stuffer for runners. It's stylish and comes with different race distances for the charm at the bottom.
Conclusion to 40+ Great Stocking Stuffers for Runners: Inexpensive Gifts for Runners
I hope you found some great stocking stuffers for runners. Did any of them make your list? Let me know if you have another idea in the comments below or email me at Candice@littlestepsbighappy.com. Happy shopping and happy holidays to all!
If you're looking for more fitness gift ideas, check out the posts below! 
Pin this for later!!
You might also like…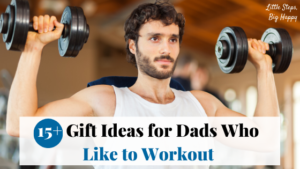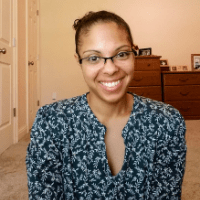 I'm a busy mom of 3 turned Health and Fitness Coach and Self Defense Instructor. I help inspire other moms to reach their health, fitness, and weight loss goals. You can usually find me chasing my kiddos around, training Brazilian Jiu-Jitsu, or sneaking away to read romance novels. About Me