Looking for some healthy Halloween recipes you can make with the kids this year? I found 15 recipes that are fun, easy, and will still leave room for some Halloween candy after all the trick-or-treating.
My kids love projects. Especially ones they can eat. This year for Halloween I thought it would be fun to make some crafts that we could chow down on.

These healthy Halloween recipes are great if you are having a Halloween party and want some fun treats. Or if your kids are like mine and are just looking for any excuse to cook in the kitchen.
If you see an idea you like, just click on the picture and you will find the recipe and instructions.
Healthy Halloween Recipes
My kids would probably eat tortilla chips by the pound if I let them. This recipe would be a great hit at a party. (Or any Saturday night at my house!)
It's a Halloween twist on a Mexican seven-layer dip. Simple to make, but very festive and tasty!😋

>
This healthy Halloween recipe looks fun and tasty. It's made to resemble a green melted witch in a glass. The recipe calls for some powdered sugar and some chocolate chips.
It makes a great dip for fruit, so that can help balance out some of the sugar. Either way, it's a healthy step up from a handful of candy or cookies. Plus the green is a big hit with kids.
>
Jack-O-Lantern Fruit Platter from Our Mini Family
Fruit is my go-to snack for parties and get-togethers so this fruit platter is pretty awesome. It's healthy and my kids will always eat it, so I don't have to go out in public worrying about hangry kids.
>
Buffalo Meatball Pumpkins from The Gunny Sack
I admit this healthy Halloween recipe is more for me than the kids. They probably won't eat the buffalo meatballs, but they would enjoy making them. They would also be a good option for a more adult Halloween party.
>
Strawberry Yogurt Ghosts from Parents
This healthy Halloween recipe is hands down one of my kids' favorites! They love frozen strawberries with yogurt. If we make this for Halloween this year, I'm easily getting nominated as Mom of the Year. (The way to their hearts is through their stomachs.)
>
Tangerine Pumpkins and Banana Ghosts from Weelicious
These spooky little treats are super simple and easy. Definitely my kind of craft and snack! If your kids have a Halloween party at school, you can show up with these and look like you tried way harder than you really did.
>

This is a great snack to make if your kids can sometimes be reluctant to eat veggies. For whatever reason, whenever I do things like this with food, the vegetables magically taste so much better. I don't question it, I just keep pouring the ranch dressing as long as my kids will eat it.
>
This kid-friendly Halloween recipe is another opportunity to sneak those veggies in. The skeleton is a little more complicated than the Jack-O-lantern. But hey, it teaches anatomy too, so you're sneaking in veggies while adding in some tutoring on the side. Supermom status right there!
>
These Spider Eggs are super cute. My kids aren't huge fans of olives, but they would be worth the effort just for the overall look.
>
Halloween Cookie Cutter Cheeses from Peas and Crayons
This is another quick and easy snack that looks a lot harder to make than it really is. All you need are some mini cookie cutters and you are in business. Perfect for a party or an afternoon snack on Halloween.
>
These Cheese and Pretzel Broomsticks and are super cute and pretty easy. My daughter is a huge Harry Potter fan, so this is a little project we might do year-round.
>
This healthy Halloween recipe would make a great lunch or dinner idea. You could also make mini ones as an appetizer for a Halloween party.
>
Jack-O-Lantern Smoothies from Eats Amazing
My whole family loves smoothies so these will always be a big hit at my house. When we made these, the kids loved getting to decorate the outside of the cups with different faces. You could even experiment with different kinds of fruit and see what colors you get.
>
This smoothie bowl is also pretty fun. My kids love the green color and spooky face. It would make a great breakfast for Halloween morning, or a good snack that day as well.
>
Peanut Butter Banana Mummies from Well Plated
There are few combinations that work better than peanut butter and banana, so this healthy Halloween recipe is sure to be a hit. Plus the mummies are pretty cute and look like a lot of fun to make.
>
Thoughts on these15 Easy & Healthy Halloween Recipes to Make with Your Kids…
So there are 15 easy and healthy Halloween Recipes you can make with your kids. Quick ideas for a Halloween party or just making crafts with your kids without all the extra sugar.
If you try any of these recipes out, let me know how it went. You can comment below or email me at Candice@littlestepsbighappy.com. Follow me on Pinterest to get more healthy holiday recipe ideas. 
Pin this for later!! 👇👇
You might also like: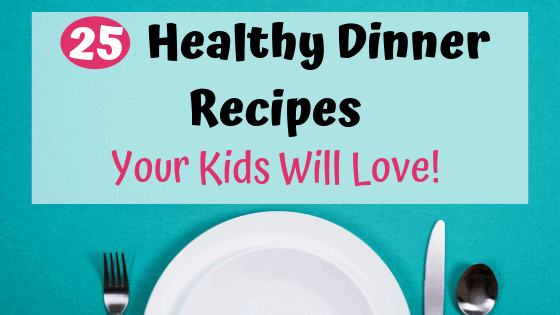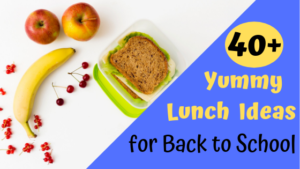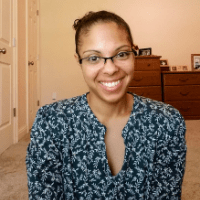 I'm a busy mom of 3 turned Health and Fitness Coach and Self Defense Instructor. I help inspire other moms to reach their health, fitness, and weight loss goals. You can usually find me chasing my kiddos around, training Brazilian Jiu-Jitsu, or sneaking away to read romance novels. About Me