Woo hoo! It's day 1!
It's Candice from Little Steps, Big Happy and I am super excited to kick this thing off with you.
Are you excited? Pumped? Maybe a little nervous?
All of those feelings are totally normal and to be expected. 
I'm super excited and I will tell you why. Today you took the first step in making your health and fitness a priority in your life. You have committed to taking the time to give your health the energy and attention it needs.
If you're anything like most of the moms that I know, it might be the first time in a long time that you have put yourself first in any way. 
And that's ok! We all have to start somewhere, and there is no place better to start than right where you are. 
Your daily dose of motivation:
I wanted to share a quote with you. Something to think about as you work out today.
Do something today that you will be proud of tomorrow.
I wanted to share this quote with you because right now you have an amazing chance to follow through on that idea. 
Today you can start this challenge and take the very first step on the path of doing something that you will be proud of tomorrow. 
Just take a few seconds to imagine how amazing it will feel tomorrow to be able to say, "I started a 7-day fitness challenge."
 Imagine how amazing it will feel at the end to say "I completed a 7-day fitness challenge!"
That feels amazing right?! Well now that you are good and motivated, let's get started on that workout.
Day 1: 20-30 minute Brisk walk
The very first exercise in this 7-day fitness challenge is a 20-30 minute brisk walk. 
You can do this walk outdoors, on a treadmill, on a track, or even around your house if you have the room. Where you do it doesn't really matter.
You can even grab a friend or your kids if you want some company. 
What I want you to focus on during this walk is your pace and your form. You want to make sure you are walking at a speed that feels intentional and brisk, but not so fast that you're killing yourself.
Ideally, you should be able to still hold a conversation while you are walking, but you shouldn't be moving so slow that your breathing is unaffected. 
A brisk pace where you are pumping your arms and using good walking form is what we're looking for. You can check out my advice on walking tips for beginners.
I chose a brisk walk for a starter exercise because I want you to begin this challenge with something familiar and recognizable. Walking seems simple to some people, but it has tons of health benefits.
Walking 30 minutes a day can:
Increase your cardiovascular and pulmonary (heart and lung) fitness

Reduce the risk of heart disease and stroke

Help improve the management of conditions like high blood pressure, high cholesterol, joint pain or stiffness, and diabetes

Build stronger bones

Improve your balance

Increase your muscle strength and endurance

Reduce body fat
I don't know about you, but I'm feeling pretty motivated to go for a walk right now!
Walking is the perfect place to begin for anyone who is getting started with fitness. 
I want to hear how it's going.
So now you know the plan for today, get out there and get it done! After you are finished, send me an email and tell me how it went. I would love to hear from you. 
I really mean it! If at any time during this challenge you have any questions or want to share your progress with me, just comment below or email me at Candice@littlestepsbighappy.com.
Candice McDaniel
P.S. If you want some more support and encouragement during your challenge, head on over to Facebook and join my group Health Conscious Mommas. It's a support and accountability group for moms who want to work on their health and fitness.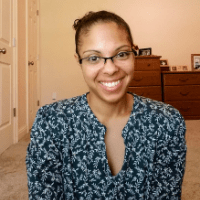 I'm a busy mom of 3 turned Health and Fitness Coach and Self Defense Instructor. I help inspire other moms to reach their health, fitness, and weight loss goals. You can usually find me chasing my kiddos around, training Brazilian Jiu-Jitsu, or sneaking away to read romance novels. About Me