Tired of dealing with cravings and food urges? Here are 7 tips to manage food cravings so you can keep the weight off for good!
Do you ever feel like you can't control your food cravings? This can be a major obstacle when trying to lose weight or maintain a healthy lifestyle.
In this blog post, we will discuss seven tips that will help you manage your food cravings and stay on track!
Disclosure: This post may contain affiliate links which I'm happy to promote. All thoughts and opinions are my own. Much love & thank you for your support. 
 To learn more about my policy, click here.
What Causes Food Cravings?
Food cravings can be caused by a variety of factors, from emotional triggers to physical hunger. The exact causes of food cravings are still being studied, but it's believed that even things like emotional triggers and brain chemistry could play a role.
For example, when you experience stress, your brain releases a hormone called cortisol. This hormone can trigger cravings for sugary or fatty foods, as your body is trying to get an energy boost.
In addition, certain chemicals in your brain can also lead to urges to overindulge. One such chemical is dopamine, which is released when you experience pleasure.
When dopamine levels are high, it can be difficult to resist cravings for unhealthy foods.
How Can I Manage My Food Cravings?
There are a number of things that you can do to manage your food cravings and stay on track with your weight loss goals. Here are seven tips:
Tip #1: Identify Your Triggers
This requires quite a bit of reflection and introspection, but once you know what causes your food cravings, you can work on avoiding or managing those triggers.
You can ask yourself questions like:
⦁ When am I most likely to experience food cravings?
⦁ What are situations that bring out my food cravings?
⦁ What foods do I crave the most?
Tip #2: Eat Regularly and Eat the Right Types of Foods
Mindful eating is a practice that can help you stay in control of your food choices. It involves being aware of what you're eating, why you're eating it, and how it's making you feel.
If you have a plan for what you're going to eat each day, it will be much easier to resist cravings for unhealthy foods. When you're hungry and don't know what to eat, you're more likely to reach for unhealthy options.
A huge part of managing your cravings is also about managing your blood sugar levels. Eating regular meals and snacks can also help keep your blood sugar stable and reduce cravings later in the day.
When your blood sugar is low, you may find yourself wanting to eat sugary or carbohydrate-rich foods. This is because your body is trying to raise its blood sugar levels.
If you are trying to manage your food cravings, it is important to make sure that you are eating regularly and eating the right types of foods. This will also help keep your blood sugar levels stable, which will help reduce cravings for unhealthy foods.
Tip #3: Get Enough Sleep
Lack of sleep can increase stress levels and lead to cravings for energy-dense, unhealthy foods. When your body is tired, it is more likely to crave quick sources of energy, such as sugary or fatty snacks.
Getting enough sleep will help you manage your food cravings and stay on track with your weight loss goals. Aim for 7-9 hours of sleep per night.
Related posts:
Tip #4 Stay Hydrated
Thirst can sometimes be mistaken for hunger, so make sure you're drinking enough water throughout the day. This will help keep you feeling full and reduce cravings.
When you feel a craving coming on, it may help to drink a glass of water first and see if that helps satisfy your hunger.
Tip #5: Exercise Regularly
Regular physical activity can help reduce food cravings. Exercise helps release endorphins, which can improve your mood and reduce stress-related food cravings.
In addition to working out regularly, a fat-burning supplement can help you reach and maintain your target weight. Fat-burning supplements work by increasing your metabolism and helping you burn more calories.
This can help you lose weight faster and make it easier to stick to your diet and exercise routine.
Tip #6: Avoid Restrictive Diets
Cutting out entire food groups or drastically reducing your caloric intake is not sustainable in the long term. It can lead to increased cravings, as your body starts to crave the foods that it isn't getting enough of.
Instead of trying a restrictive diet, focus on eating healthy, balanced meals and snacks throughout the day. This will help keep your blood sugar levels stable and reduce cravings for unhealthy foods.
Tip #7: Manage Your Stress Levels
Stress can be a major cause of food cravings. When you're stressed, your body releases hormones that make you want to eat sugary or fatty foods.
Managing your stress levels is key to managing your food cravings. Try incorporating some relaxation techniques into your daily routine, such as yoga, deep breathing exercises, or mindfulness.
Final Word on 7 Tips to Manage Food Cravings and Sustain Your Weight Loss
Managing your food cravings is all about taking control of your body, mind, and emotions in order to stay on track with your weight loss goals. With some dedication and effort, you can learn to manage your cravings and create positive lifestyle habits that will help you reach your fitness goals.
What are your favorite tips to manage food cravings? Let us know in the comments below or email me at Candice@littlestepsbighappy.com. Follow me on Pinterest for more healthy weight loss tips.
Looking for more healthy eating tips?
Healthy Eating Habits:
Dieting:
Pin this for later!!
You might also like…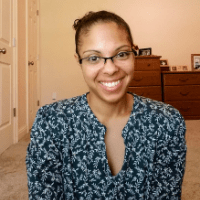 I'm a busy mom of 3 turned Health and Fitness Coach and Self Defense Instructor. I help inspire other moms to reach their health, fitness, and weight loss goals. You can usually find me chasing my kiddos around, training Brazilian Jiu-Jitsu, or sneaking away to read romance novels. About Me