Want to exercise in the comfort and privacy of your own home? Here are some tips for setting up a home gym you'll love.
Home gyms are a great solution for a comfortable workout. The freedom to exercise at home eliminates worries about the looks and judgments of others. Exercising in a home gym also builds self-confidence and self-esteem through fitness, without having to leave the house.
Building a fitness station at home can be a challenging task. Many people are unsure of what equipment to buy or where to put it.
However, it is possible to build a functional home gym in a variety of spaces to suit a variety of lifestyles. The following tips will help make the process as easy as possible.
Disclosure: This post may contain affiliate links which I'm happy to promote. All thoughts and opinions are my own. Much love & thank you for your support. 
 To learn more about my policy, click here.
Home Gym Design
Choosing the wrong location for fitness equipment is one of the most common mistakes people make when building a home gym. A spacious room or area is essential when setting up a home gym.
Fitness equipment is large, and most exercises require a lot of space to move. If big machinery needs more space to operate smoothly, don't push it against walls or doors.
To ensure that every machine is able to operate safely, measure workout equipment and create a gym floor plan.
Additionally, the location of the gym has an impact on exercise. The equipment in a den or living room, for instance, may encourage people to work out.
It can be impactful for some to simply see and be reminded of workout gear. Some people, however, prefer to keep their fitness areas separate from their living areas, for the sake of home decor.
Choosing the Right Space for a Home Gym
There is no one-size-fits-all when it comes to exercising. There may be people who prefer weightlifting, and there may be others who prefer cardio.
So, the most important consideration before setting up a home gym is what exercises will be done in the space. It is best to invest in equipment that will challenge specific workout goals.
It may be best to start with essential equipment first before trying other types of equipment. After becoming comfortable with basic equipment, explore new workout gear.
To make the most of the space in the home gym, first, build an exercise routine, then consider what equipment is needed. By determining which types of workouts are most important to meeting health goals, fitness stations can be better organized.
Consider these factors when designing a home gym: ventilation, light, and storage.
Ventilation
Your home gym will benefit from ventilation as it will help keep proper airflow to the area. A room with air conditioning is ideal, but a room with a fan or windows will also work.
Home gyms are often built in garages because of the ventilation. In addition to letting in fresh air, open garage doors create a refreshing indoor-outdoor atmosphere to ease sweating and let in natural light.
Light
Light is very important to exercise safely. Without proper lighting, the equipment can be tripped over or exercises can be done incorrectly leading to injury.
For these reasons, taking live workout classes or personal training sessions requires adequate light. This is especially true when the instructor watches virtually as they provide feedback during a session.
The ideal location for a home gym is one that receives a lot of light from windows. In rooms without windows or skylights, install light fixtures that mimic natural light. Consider LED lighting that has a color temperature of 5000k or that is classified as daylight instead of fluorescent lights.
Storage
An effective storage system is essential for a home gym. Having to exercise in a messy area is another hurdle that has to be overcome.
Not to mention that in the worst-case scenario, clutter could cause injuries if the equipment is tripped over. A variety of workout items need storage, such as a rack for weights, a hook for resistance bands, or a basket for yoga mats and blocks.
As long as there is designated storage for all the workout gear, the area will remain neat and organized. This is especially important if there is limited space in the home gym area.
Related posts:
Home Gym Ideas
Garages, basements, and even small corners of apartments can be transformed into home gyms with the right design. There are many factors to consider, the most important being, the kind of workout, and the amount of space available.
Home gyms, whether for cardio, yoga, or weightlifting, take some basic steps. The following are things to consider when changing a part of the home into a workout area.
Home Gym Ideas for Beginners
The first step to beginner home workouts is finding a space to exercise. A simple way to start practicing a regular exercise regimen is to follow a plan.
It's really easy to do this with at-home exercise programs since they are pre-programmed and can be done whenever motivation strikes. It is important to choose a program that is geared toward beginners so that all the moves can be explained at a safe level.
For beginners, exercise basics such as walking, jogging, cycling, and even playing on the playground are beneficial. A beginner's workout should consider their overall goals.
Here is some basic equipment that works well for most beginner at-home exercise programs:
a set of dumbbells
resistance bands
yoga mat
treadmill
Home Gym Ideas for Parents
Finding time and space to work out for busy moms and dads can be challenging. However, exercising at home is an ideal solution for busy parents.
A home gym allows parents to exercise more frequently. When parents have a home gym, they can work out before their kids wake up, after bed, while they nap, or even while the kiddos are around.
In homes with small children or pets, storage should prevent them from accessing equipment. Children and curious pets should be kept away from equipment by storing it in a separate room or closet.
If children are present, a workout can be done in a different room, giving more flexibility to use equipment that isn't suitable for use around children.
Budget Friendly Home Gym Ideas
If finances are tight, consider these tips to build a home gym on a budget.
Building a budget-friendly home gym can be accomplished in three ways: Buy second-hand equipment, build your own equipment, or purchase new equipment from a low-cost supplier. The only equipment needed to get started is a few essentials.
It is possible for anyone to see success using barbells, resistance bands, exercise mats, stability balls, benches, ab wheels, gliding discs, and jump ropes, regardless of their goals. To build an equipment collection, other additional items can be purchased once these basics are met.
Home Yoga Studio Ideas
In addition to a home gym, a space for yoga and meditation is a popular component of fitness. A home gym space is an ideal location for a family yoga routine.
Yoga studios in the home are a perfect place for the entire family to relax and grow spiritually. A home yoga studio space can be made in a spare bedroom, attic, basement, or any quiet nook in the house.
This space should be filled with soothing elements, such as neutral colors and calming decor. The presence of plants or a living green wall can help create a Zen environment for this space.
Home Gym Installation Costs
In general, a home gym will cost a substantial amount of money, depending on training goals and setup requirements. Home gyms can be as simple as a few dumbbell sets and a workout mat, or they can be as complex as an entire weight room, depending on the budget.
On the lower end, home gyms can cost around $300-$400. If you opt for more high-end equipment, they can cost as much as $15,000. However, the average most people spend is around $2,000.
Compared to a gym membership, a home gym is also much cheaper over its lifetime. In fact, most home gyms will end up costing their owners less than several years' worth of commercial gym memberships.
Conclusion to Tips for Setting up a Home Gym
Setting up a home gym is a great way to save money and get in shape. By following these tips, you can make sure your home gym is set up for success.
Got any other tips for setting up a home gym? Share them in the comments below or email me at Candice@littlestepsbighappy.com. Follow me on Pinterest for more tips and advice on home workouts.
Pin this for later!!
You might also like…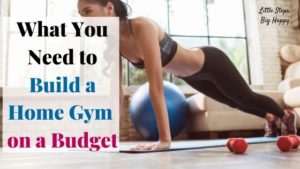 Elizabeth Foley (she/her) is a professional writer with a special interest in consumer research
and in-depth knowledge of business trends. Both professionally and in her personal life
Elizabeth enjoys researching high-quality products at affordable prices. Elizabeth is always on
the hunt for cost-effective solutions for both businesses and consumers.