Want to make sure your baby or toddler is getting the best possible nutrition? Check out these ten tips for cooking healthy baby food!
Congratulations! You have now become a parent! It's such an exciting time. Being a parent is one of the greatest joys in life.
However, it will also be one of the most tiring, challenging, and exhausting times – I can almost guarantee it. And one of the hardest parts has to be when it comes to cooking healthy meals for your growing baby or toddler.
Preparing food for your baby is not a walk in the park. Unlike adults, babies and toddlers have specific nutritional requirements that need to be met in order to grow and develop normally. And it's up to you to make sure that they are getting all these nutrients in the best way possible.
As a parent, you must know how to prepare the best food for your baby or toddler. You may be worried about what to feed your baby if you are new and don't know how to cook healthily.
But don't worry! This article is written to provide you with some basic guidelines on how to cook healthy food for your little one.
So let's get started!
Disclosure: This post may contain affiliate links which I'm happy to promote. All thoughts and opinions are my own. Much love & thank you for your support. 
 To learn more about my policy, click here.
10 Tips for Cooking Healthy Baby Food
1.) Have A Plan
I know it is hard to make a plan if you are new to cooking for your baby or toddler, but you need to have a plan. A good plan will help you decide what to cook for your little one, how much of it, and when!
Try not to make too many changes at once. Stay calm and think about what you want.
A great way to start is with a list of foods you would like your baby or toddler to eat. For instance, fruits like apples, avocados, apricots, bananas, and oranges are at the top of the list.
Also, some great choices are vegetables such as broccoli, carrots, brussels sprouts, cabbage, sweet potatoes, and squash.
Be sure to have available tools like a good blender and food processor. You will need them to make purees and other things that are easier for young children to eat.
Also, having a variety of bowls that are easy for your child to hold on his own is very important. Try mixing up the colors, so they look pretty as well!
Try to learn some recipes that are easy to make but taste good. This way, you will have an arsenal of dishes you can pull out when your child gets bored with the usual stuff.
2.) Learn The Foods To Avoid For Babies
There are foods that you must stay away from when you're cooking or preparing for your baby or toddler. These include foods like cookies, cake, candy, and soda should never be added to your baby's diet.
These foods give very little nutrition and are filled with salt and sugar that can be harmful to your baby's health. Sugar increases the risk of diabetes, and salt can lead to high blood pressure in a young age group.
Honey is not recommended for babies under the age of one. Honey is a high-sugar food and could cause your baby to get an upset stomach or diarrhea.
You should not introduce cow's milk to your baby until they are at least one year old. Cow's milk is high in protein and fat, which can cause allergies or stomach problems in infants.
3.) Make Baby Foods
By the time your baby is five to six months old, they are ready to try solid foods. The easiest and best way to start off is by pureeing a variety of fresh foods and letting your baby get used to them while you're at it.
Some examples of foods you can try are mashed bananas, applesauce, or pureed peas or carrots. Of course, when preparing fruits and vegetables, you must ensure that they are clean and fresh.
And one thing to keep in mind is that new eaters only need about one to two tablespoons of food, so keep portions small.
It is very important to check with your pediatrician if your baby is ready for solids. Your baby's pediatrician can tell you when is the best time to start adding new foods to your baby's diet.
4.) Provide a Variety of Foods
Babies experience changes in their taste buds as they grow older and reach toddler years. This means they may reject certain foods they used to like and start eating other things instead.
You should try to provide a variety of foods so your toddler can experience new flavors and textures, which will help him develop a healthy palate. For instance, you can offer your child a fruit smoothie one day and a vegetable soup the next.
This will help him develop a healthy relationship with food and prevent him from developing an unhealthy eating pattern later.
5.) Take Notes as You Go
When you begin to cook for your baby or toddler, keep track of what you feed him and how he reacts to it. You may notice that your baby has developed some food allergies or intolerances, such as an allergic reaction or an upset stomach from a certain kind of food.
You may notice that certain foods make him feel sleepy, energetic, or cranky. This knowledge will help you prepare better meals for your baby in the future.
Related posts:
6.) Don't Be Afraid To Experiment
Don't be afraid to experiment with new recipes, flavors, and textures. Remember that the more your baby or toddler is introduced to new foods, the more he will like them and get used to them.
If you have tried the same old chicken casserole and it doesn't seem to interest your child anymore, try making some batches of ground turkey or chicken and then add some meat tenderizer to make it taste better. As long as you don't overdo it, experimenting is really fun!
7.) Provide Your Toddler With Some Control
When serving food to your toddler, let her feed herself as much as she wants. Dividing food into small, easy-to-manage portions is also a great idea.
For instance, you can give your toddler a fork or spoon that she can use to feed herself. She will enjoy the process of feeding herself and might even be interested in trying new foods!
8.) Avoid Contaminants
When preparing your toddler's meals, make sure you are not using contaminated utensils. This will help to prevent the spread of germs and sickness in your family.
Ask your spouse or partner to take over kitchen duties for a few days if you are sick. This way, he can cook separate healthy meals for the rest of the family, avoiding contamination from you.
9.) Take Your Time And Enjoy The Cooking Process
As long as you are providing a healthy diet for your baby or toddler, cooking should be fun. In fact, you may find that it is one of the most enjoyable parts of meal preparation.
As long as you keep everything simple and include a variety of healthy foods, cooking should bring back some good memories.
10.) Be Patient For the Best Results
When you're trying to introduce your baby or toddler to a new food, you may experience some stumbles. Don't overreact or be too harsh when he rejects a new food.
This will lead to negative consequences such as an upset stomach from the food or an allergic reaction to the particular kind of food. Be patient because your baby will get used to any new foods over time.
Conclusion to 10 Tips for Cooking Healthy Baby Food
Preparing healthy meals for your baby or toddler is an excellent way to help them develop a healthy relationship with food. Keeping track of what he eats and making notes on how his body reacts to new foods will help you in the long run.
Learning how to cook for your baby or toddler is a great way to bond with them and teach them about healthy eating habits at a young age.
Got any good tips for cooking healthy baby food? Share in the comments below or email me at Candice@littlestepsbighappy.com. Follow me on Pinterest for more healthy cooking tips for kids.
Looking for more healthy recipes for kids?
Pin this for later!!
You might also like…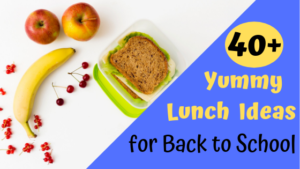 Andrea is currently the head of content management at SpringHive Web Design Company, a digital agency that provides creative web design, social media marketing, email marketing, and search engine optimization services to small businesses and entrepreneurs. She is also a blog contributor at Baby Steps Preschool where she writes storytime themes, parenting tips, and seasonal activities to entertain children.