Exercising can be tough sometimes. It's not always fun and it is very rarely ever easy. Some days we show up, but it's hard to motivate ourselves to push through and give our best.
For those days you need a power word or phrase to help drive you. Something you can repeat to yourself that pushes you to give your best effort.
The words on this list are meant to empower you and inspire you. When I think of these words, especially when I am working out, they make me feel confident and powerful. I feel like I can do anything I set my mind to.

How to use your power words
To use these power words, simply pick your favorites and put them into simple sentences you can repeat. For example:
"Today I am STRONG!"
"In this moment I am POWERFUL!"
"I am UNSHAKEABLE in my determination to finish this!"
You can use as many words as you like and whichever ones resonate with you. Use the ones that make you feel confident and capable. Motivation and inspiration are all about finding the things that you can connect with that help you feel like you can accomplish your goals.
Power words to inspire your next workout
Strong

Fierce

Powerful

Tough

Awesome
Growing

Progress

Motivating

Determined

Focused
Committed

Purposeful

Resolved

Unwavering

Undaunted
Steadfast

Persistent

Unshakeable

Brave

Relentless
Conclusion
So there are 21 power words to inspire your next workout. I hope you found some words that help you feel confident and capable. I know you got this! Now you have some words and phrases to help remind yourself of that during your next workout.
For more exercise motivation and inspiration, follow me on Pinterest here. If you have any other great power words, leave a comment below or email me at Candice@littlestepsbighappy.com. 
Pin this for later!
👇
👇
You might also like: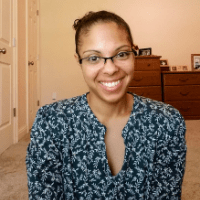 I'm a busy mom of 3 turned Health and Fitness Coach and Self Defense Instructor. I help inspire other moms to reach their health, fitness, and weight loss goals. You can usually find me chasing my kiddos around, training Brazilian Jiu-Jitsu, or sneaking away to read romance novels. About Me