Back to school is coming up fast! There is a lot of preparation that goes into gearing up for back to school. If you are looking to check lunch boxes and bags for school off of your list, then you are in the right place.
The lunch boxes and bags I picked for this list are all reasonably priced and built to withstand the wear and tear that comes with being used 5 days a week. Most of the options lean more towards the bento box style. This is because I find this to be the most convenient way to make sure I'm hitting all the food groups when I'm packing lunch for my kids.
If you want some great ideas for what to pack in these amazing lunch boxes, check out How to Pack a Healthy School Lunch and 40+ Lunch Ideas for Back to School.
Disclosure: This site uses affiliate links. This means that if you click on some of the links and make a purchase I receive a small commission. This in no way changes the price for you and helps to support this blog. I only recommend products that I believe would offer value to my readers. To learn more about my policy, click here.
9 Lunch Boxes and Bags for School
This bento-styled lunch box from Bentgo is perfect for kids aged 3-7. I really like this lunchbox because it has convenient little compartments. This really helps parents like me include all 5 food groups when I'm packing my kid's lunch. I also LOVE that it is microwave and dishwasher safe. If it doesn't fit in the dishwasher, it's pretty much never getting used at my house.
This lunch box made the list because of its extra versatility. It has the option to use their insulated thermos or simply have a larger compartment for your main dish. An easy way to send your kid off to school with warm food is a big bonus! Plus the convenience of a bento box makes this a great lunchbox option.
This lunch box by DaCool is really nice because they have made it a larger size than normal lunch boxes. This works great if you have an older child who takes their lunch to school. It is also leak-proof and microwave/dishwasher safe.
This lunch bag is great if you are looking for something simple to get the job done. They are insulated and have 17 different patterns to choose from. It's a good size that will fit most standard lunch boxes and still have room for a cold pack.
This is another lunch bag with a fun print that your kids are sure to love. It has 6 different designs and each comes with its own special sandwich cutter. My kids LOVE when I cut their food into fun shapes, so I think this is a fun little bonus. The lunch bag is insulated and big enough to fit most standard size lunch boxes.
This bento box by East World is pretty awesome. It comes with a reusable cold pack, silverware, and an insulated lunch bag. That right there is one-stop shopping. My favorite kind! It also claims to be soup-safe and leak proof. That means you can get as creative as you would like with this lunch box and not have to worry about a mess.

These bento boxes come in a set and are made larger for older kids. You can buy this set of 2 for your older kids, or keep one for yourself. Sometimes I like to buy more than one lunch box for my kids. This way I'm not scrambling to wash a lunch box I forgot to clean the night before during the morning rush. The lunch boxes come with matching lunch bags, so you can be sure everything fits well together.
My daughters are big My Little Pony fans, so this lunch bag caught my eye. When I saw it came with a thermos, I knew it had to make this list. Having a thermos greatly increases the variety of foods you can pack. This thermos is insulated as well as stainless steel, so it doesn't retain odors or stains. There are 4 different styles to choose from. Some of the styles come with a matching water bottle instead of a thermos.
This is one of the larger sized lunch boxes and bags for school. This one works well for older children or adults. It comes with separate silicone bento boxes and an insulated lunch bag. I like this feature a lot because if there was one food that needed to be heated, I can easily pop just that one item in the microwave, while the rest of the food stays cool. The silicone boxes are microwave, dishwasher, AND freezer safe.
Conclusion
So there are 9 perfect lunch boxes and bags for back to school. I hope this list helped you pick an awesome lunch box for your kids that will help make them happy, and your life a little easier.
If you need some inspiration for what to pack in those awesome lunch boxes, check out my posts 40+ Lunch Ideas and How to Pack a Healthy School Lunch. You can also follow me on Pinterest here, for more school lunch ideas.
Comment below and let me know which lunchboxes help make your life easier. Or you can email me at Candice@littlestepsbighappy.com 
You might also like: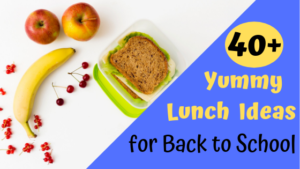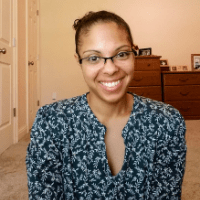 I'm a busy mom of 3 turned Health and Fitness Coach and Self Defense Instructor. I help inspire other moms to reach their health, fitness, and weight loss goals. You can usually find me chasing my kiddos around, training Brazilian Jiu-Jitsu, or sneaking away to read romance novels. About Me