It can be hard to buy for someone who is a healthy eater. Maybe you're not always sure what they would want, or maybe they already have everything they need to cook at home? Well, we have you covered with these 25 great gifts for healthy eaters!
As someone with a focus on healthy eating, I can assure you that the gifts on this list will hit the mark. Whether it's a cookbook or a kitchen appliance, these thoughtful gifts are sure to please.
Save yourself some time and effort and check out this list of gift ideas perfect for anyone who is focused on eating a healthy diet.
Disclosure: This post may contain affiliate links which I'm happy to promote. All thoughts and opinions are my own. Much love & thank you for your support.  To 

learn more

 about my policy, click here.
The Top 25 Thoughtful Gifts for Healthy Eaters
Crockpot
This crockpot is a great gift for anyone who likes to eat healthy. Crockpot meals make cooking healthy dinners so much easier.
There is something about being able to set up everything in the morning and let it do all the cooking for you throughout the day that I swear makes the food taste better.
This one here also has the added advantage of a digital timer and it will automatically switch to the "warm" setting when the timer goes off. As soon as my current crockpot breaks, I'm buying this one.
Instant Pot
An instant pot is a great gift idea for anyone trying to eat a healthier diet. You can use it to easily cook soups, rice, meat, and even make your own yogurt.
Not only can it cook just about anything, but it does it in half the time it would take you normally and it cooks all by itself. If you're buying for someone who likes to eat healthy and save time in the kitchen, this appliance is a must-have.
Meal Prep Containers
The next gift idea that anyone who cares about eating healthy would love is meal prep containers. Meal prepping is a huge part of how I stick to a healthy diet and I'm not alone.
These meal prep containers are made of glass, so they're better quality and more durable than the typical plastic ones. They're also freezer and microwave safe, so you can use them however you need.
Meal Planning Subscription

As someone who has to come up with a meal plan every week, I can promise you this is a fabulous gift idea for healthy eaters. Trying to come up with healthy, interesting recipes every week gets old fast.
You can only scan Pinterest so many times before you feel like you're just eating the same old meals. This meal planning subscription creates unique meal plans for you every week based on your food preferences.
They even tailor the recipes to what's on sale at your local grocery store. This makes them a great money and time saver.
Bamboo Cutting Board
Eating healthy means lots of chopping. Chopping fruits, vegetables, garlic, etc. That's why a nice, high-quality bamboo cutting board is a great gift for healthy eaters.
This one here is big enough to cut a watermelon and has that nice groove around the edges to catch any juice from spilling on the counters.
Knife Set
As I mentioned before, cooking healthy meals means lots of chopping. So along with a quality cutting board, every healthy eater needs a good set of knives.
This knife set here has everything you could want and more. It includes a:
Bread knife
Chef knife
Carving knife
Santoku knife
Tomato knife
Cheese knife
Utility knife
Pizza cutter
Paring knife
6 steak knives
Shears
Peeler
Holder
Fruit Infuser Water Bottle
Staying hydrated is an important part of eating a healthy diet. That makes fruit infuser water bottles great gifts for healthy eaters. Not only does fruit-infused water taste better, but it also allows you to get great vitamins and nutrients from the fruit while staying hydrated.
This one here is shatter-resistant and has a nice anti-slip rubber grip. After grabbing and dropping more than one slippery water bottle due to condensation, I can tell you that is a nice feature.
Cookbook
As I mentioned before, meal prepping is a must for healthy eating and having good recipes to choose from definitely helps. This cookbook is full of healthy recipes that are perfect for meal prepping.
This book has recipes for:
Breakfast
Grains & Beans
Salads & Vegetables
Fish & Seafood
Poultry
Meat
Ready-to-go Snacks
Sauces, Dressings, & Staples
Healthy Eating Book
Another great gift for healthy eaters is a book that helps extend their knowledge about eating healthy. "Food as Medicine" is a definitive guide on 33 nutritious and delicious superfoods.
If you're looking for a gift that will help the receiver up their healthy eating game, this is a great choice.
Healthy Snack Subscription Box
Subscription boxes make great gifts for healthy eaters because it's something they are pretty unlikely to buy for themselves. This healthy snack subscription box includes 12 full-sized healthy snacks delivered every month.
Each box also includes 6 new 'discovery' snacks plus 6 'fan favorites' so you know you'll always be getting something good. Enjoy trying out new snacks that are plant-based, low in sugar, and 100% delicious.
Blender
A good blender is a healthy cook's best friend. I personally use mine a few times a week to make protein smoothies for breakfast or after a workout.
This one here is works great for blending both large and small quantities. You can use the 72 oz pitcher or one of the 16 oz cups to take your drink on the go.
Spiralizer
Next on our list of gifts for healthy eaters is the spiralizer. Spiralizers are used to slice up vegetables in a noodle shape. Veggie noodles make a healthier alternative to pasta for lots of recipes.
With its 10 different blades to make a variety of cuts, this is a great addition to your kitchen. It also includes an ebook with a few recipes to help get you started.
Related Posts:
Air Fryer
If you've talked to anyone who has recently purchased an air fryer, they'll probably spend the next 20 minutes telling you how amazing they are. They allow you to cook yummy, crispy fried foods without the messy oil and extra fat and calories.
They offer a very healthy alternative to cooking traditional fried foods. Which makes them a great idea for gifts for healthy eaters.
This one here has a 6-quart fry pan basket so it's big enough to cook meals for the average family.
Kombucha Brewing Kit

Another great gift idea for healthy eaters is a kombucha brewing kit. Enjoy all the health benefits of kombucha without having to buy expensive drinks from the store.
This kit has everything you need to brew kombucha at home.
Cookbook Stand
One of my favorite gifts I ever received for my kitchen was a cookbook stand. My cookbooks used to get lost in the mess of cooking, or even worse get covered with spills and stains.
Now, I love being able to easily read and see my recipes while I'm busy cooking up a storm. This cookbook stand works great whether you're using a cookbook, tablet, or even just your phone.
Kitchen Scale
A kitchen scale makes a great gift for healthy eaters. They help you perfectly measure out portion sizes and ingredients while you're cooking.
This one is small and compact, so it won't take up too much room in your kitchen. Plus, it has a nice feature that lets you easily remove the container weight from your final measurement of food.
Meal Delivery Subscription
Sometimes the best gift you can give someone is a meal they didn't have to cook. A subscription to a meal delivery service is a wonderful gift for someone who likes to eat healthy.
They get all the benefits of a healthy diet without having to slave away in the kitchen. With Personal Chef to Go, they offer gift cards so you can try them out and get healthy meals delivered right to your door.
Use the link below to see how it works.
Food Processor
Food processors make great gifts for healthy eaters. They help make the prep work for cooking all the healthy meals go by a lot faster.
This one here can slice, chop, mince, shred, and puree. A great tool for anyone who spends time in the kitchen.
Portion Size Plates
An important part of eating healthy is having a healthy balance of proteins, fruits and vegetables, and grains. That makes these portion control plates a great gift for healthy eaters.
Each section is divided up to serve you a balanced meal according to the USDA's recommendations. These plates are a lot more elegant and better quality than most of the portion control plates you'll find too.
Vegetable Chopper
If you're shopping for someone who would appreciate their meal prep going faster, then a vegetable chopper is a must-have. They help make chopping fruits and vegetables way easier and will dramatically decrease the amount of time you spend cooking.
This one has 8 different blades so you can easily chop several different kinds of fruits or vegetables. It's also easy to clean and dishwasher safe.
Food Steamer
Another great gift for healthy eaters is a food steamer. Food steamers are perfect for quickly making healthy meals without having to sacrifice nutrition, taste, or time.
This steamer has 2 tiers, so you can easily cook your entire meal without having to dirty up several pots or even turn on the oven. It also has anti-dry protection, so it will automatically shut off if it runs out of water.
Egg Cooker
When my mom came to visit last Christmas she got a chance to see my egg cooker in action. As soon as she got home, she immediately got one and has been using it weekly since.
They are great for healthy eaters because they allow you to easily cook perfect eggs without the fuss and hassle of turning on the stove. This one here has trays so you can easily boil or poach your eggs and even cook omelets.
Oil Spray Bottle
Next on our list of gifts for healthy eaters is an oil spray bottle. These are great because they give you a lot of control over what types of oils you use while cooking.
Oils like olive oil and avocado oil are a much healthier alternative than a lot of the cooking sprays out there. With this oil spray bottle, you can easily pick what type and how much oil you want to use so you can better manage the nutritional content of what you're cooking.
Salad Spinner
We all know how important it is to wash our vegetables before eating them, but that can get a little tricky with a salad. You need to wash your lettuce or spinach, but if it stays too wet, it gets soggy and limp before you even have a chance to dive in.
Using a salad spinner helps you easily dry your food so you can get to eating it more quickly. This one here has an easy push pump and a non-slip ring on the bottom to make it easy to use.
Immersion Blender
Last on our list of thoughtful gifts for healthy eaters is an immersion blender. These are great because they let you easily blend ingredients for smoothies, soups, or baby food.
I especially like to use mine if I'm blending up soups or stews that won't completely fit inside my regular blender.
Conclusion to The Top 25 Thoughtful Gifts for Healthy Eaters
So there you have 25 thought gifts for healthy eaters. As someone who does a weekly meal prep and spends a LOT of time paying attention to my food, I can tell you these gifts will be a sure winner.
Did you find some gifts for healthy eaters to buy? Let me know in the comments below or email me at Candice@littlestepsbighappy.com. Follow me on Pinterest for more health-conscious gift ideas.
Pin this for later!!
You might also like…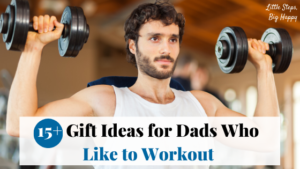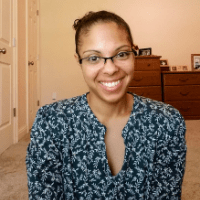 I'm a busy mom of 3 turned Health and Fitness Coach and Self Defense Instructor. I help inspire other moms to reach their health, fitness, and weight loss goals. You can usually find me chasing my kiddos around, training Brazilian Jiu-Jitsu, or sneaking away to read romance novels. About Me