Good Morning, it's Candice from Little Steps, Big Happy.
How are you feeling today?? A little sore? Motivated? Excited? Maybe a little of all three? 
Either way, I hope you are ready for day 6 in the Beginner Fitness Challenge. You are just 2 days away from totally crushing this fitness challenge and I am so proud of you for making it this far.
Your daily dose of motivation:
Here is the quote I wanted to share with you today:
"If I don't fully commit to the changes, the results won't fully commit to me."
I absolutely love this quote. I repeat it to myself whenever I need a reminder that I'm only going to get out of my workouts what I put into them. 
The only results that you get are the ones that you have worked for. If you only show up half the time or you only put in a little bit of effort, your results are going to reflect that. 
And hey, you're an adult. You absolutely have the right to decide how hard you want to work, but just know that your results are directly related to your effort level. 
If you want amazing progress and continual results then you will have to put in the effort required to get that. A program, any program (mine included!) is only as good as the effort you put into it. 
Now that you are hopefully all fired up to do your best today, let's get to that workout.
Day 6: Beginner Yoga Flow Routine
Today we are having another active recovery day with some beginner yoga. The Beginner Yoga Flow is a simple yoga routine designed to help you work on balance and flexibility while introducing you to some basic yoga moves.
Nothing in this routine should be crazy difficult or challenging. I just want you to stretch, work on some balance, and let your body recover from the last 2 days. While still keeping up your daily exercise habit. 
Beginner Yoga Flow Routine: This routine should take about 15-20 minutes. Move through the entire sequence twice. Make sure to hold each pose for 3-5 slow breaths. 
Mountain Pose

Standing Forward Fold

Plank Pose

Downward Dog

Warrior II Left Leg

Low Lunge Left Leg

Low Lunge Right Leg

Warrior II Right Leg

Plank Pose

Cat to Cow Transitions 4 times

Seated Twist to the Left

Seated Twist to the Right

Seated Forward Fold

Child's Pose

Downward Dog

Standing Forward Fold

Chair Pose

Mountain Pose
You can click the link below to see more detailed explanations of each pose as well as picture demonstrations.
Want to take the Beginner Yoga Flow Routine on the go? Click the link below to get a free printable copy of the routine.
Now you are officially ready to begin.
Once you have finished, send me a message and tell me how it went. I would love to know how your 7-Day Beginner Fitness Challenge is going. 
You can email me at Candice@littlestepsbighappy.com or find me on social media. Message me on:
Tomorrow is the last day! Talk to you then,
Candice McDaniel
P.S. You can find the workouts for the previous days here: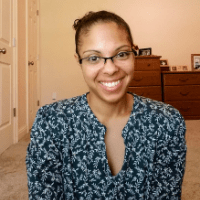 I'm a busy mom of 3 turned Health and Fitness Coach and Self Defense Instructor. I help inspire other moms to reach their health, fitness, and weight loss goals. You can usually find me chasing my kiddos around, training Brazilian Jiu-Jitsu, or sneaking away to read romance novels. About Me