Hey, it's Candice from Little Steps, Big Happy.
Hooray! You have made it to day 3!
You should be proud of yourself. Not everyone is willing to make it this far. A lot of people start to slow down and look for excuses to quit right about now. 
You, clearly, are dedicated to making the changes necessary to reach your goals. That is something to be proud of. Go ahead and pat yourself on the back. 
Your daily dose of motivation:
Here is the quote I wanted to share with you today:
"If you get tired, learn to REST not QUIT."
That right there is some solid gold. When you learn how to do this, there is nothing that can stand in your way. 
Every single successful person I have ever heard talk about the secrets to their success, always say that it came down to their persistence in continuing to go after their goal.
That doesn't mean that they always did it perfectly, or that they never hit obstacles. They had setbacks and struggles just like the rest of us. 
The difference between them and the people who don't reach their goals is that they kept trying despite those struggles and setbacks.
This mentality absolutely applies to exercise and fitness. As you work on changing your habits and working towards your health goals, you are going to have setbacks. You are going to get tired, sore, or demotivated. 
That's the way it's supposed to happen. As busy people with complicated lives, we aren't meant to be going 100mph all of the time. Sometimes we need to rest.
We need to slow down a little and catch our breath. 
The key is to take that break and REST, not QUIT. Slow down if necessary, but don't stop.
Today we are going to practice what "resting" looks like when it comes to exercise. Your body may be feeling a bit worn out or sore after the last couple of days. Especially if this fitness challenge is a big step outside of your normal routine.
Today we are going to do a yoga workout that I like to think of as an active recovery. This workout will help keep your body moving and your mind focused on keeping the habit of exercising every day while still letting your body rest and recover from the tougher workouts.
Day 3: Family-Friendly Yoga Routine
This is a simple beginner yoga routine. It should only take you about 15-20 minutes to complete the entire routine. It's designed to be easy enough for newbies while still introducing you to common yoga poses and positions. 
It's also a great routine to do with your kids. As I was creating it, my 9-year-old daughter helped me try out all of the different positions and gave me her "expert" opinion lol. 
Family-Friendly Yoga Routine: Move through the entire sequence twice. Make sure to hold each pose for 3-5 slow breaths. 
Mountain Pose

Standing Half Forward Fold

Plank Pose

Downward Dog

Warrior I Right Side

Warrior II Right Side

Triangle Pose Right Side

Triangle Pose Left Side

Warrior II Left Side

Warrior I Left Side

Plank Pose

Superman Pose

Downward Dog

Standing Half Forward Fold

Mountain Pose

Tree Pose Right Leg

Tree Pose Left Left

Mountain Pose
You can check out the Family-Friendly Yoga Routine post to see pictures demonstrating all of the moves. Just click the link below.
If you want a printable copy of the Family-Friendly Yoga Routine so you can take your workout on the road, click the link below. 
Don't leave me hanging!
Once you have finished the routine, I would love to hear how it went. Email me at Candice@littlestepsbighappy.com or send me a message and let me know how the 7 Day Beginner Fitness Challenge is going. 
You can find me on:
Talk to you tomorrow,
Candice McDaniel
P.S. You can find the workouts for the previous days here: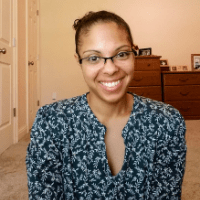 I'm a busy mom of 3 turned Health and Fitness Coach and Self Defense Instructor. I help inspire other moms to reach their health, fitness, and weight loss goals. You can usually find me chasing my kiddos around, training Brazilian Jiu-Jitsu, or sneaking away to read romance novels. About Me